Xenon Wars by deca.death

Terraformer Company
First few words about my company (ie. my playtsyle): Terraformers Inc., is Argon company dealing mostly in high tech weapon industry, in fact they were same infamous company that help developing terraformers in a first place (but now they are "good", or so they say ; ) Their CEO is Thorwald Konnis, young genius playboy millionaire (that's me allright : ) who seems to like much more flying in high speed fighters and chasing women then making money, at least for his uncles (and only living relative) taste. Character is loosely based on Robert Downey Jr. in movie "Iron Man".
Terraformer Company (T.C.) treats all sentient beings in universe as potential customers, so we are friends to all sides willing to accept our friendship. That includes Pirates and Yaki (who are amongst ours best customers), but naturally excludes Xenon and Khaak (insects and robots somehow don't recognize concept of money, and that's bad for business : ) T.C. is about weapon production, and distribution but it deals in other products, especially high profit ones, that are illegal in some territories. We are in very good relationship with all governments, maintaining even personal friendship with some rulers. Although shady deals like industrial espionage (even stealing of war vessels) or even assassinations are also conducted, they are quickly covered up thanks to many connections. T.C. has substantial private army, which is used in keeping galaxy safer (war is good for business but not when all the customers are dead : ) T.C. also invest millions in vast chain of charity projects in Terran and Yaki space which are giving major bump to their economies.

Current situation in my game
I have finished all the major plots, build all that I plan on building, steal almost every ship that can be stolen including ATF and Xenon, (77 successful boardings up to now) have major war reserves in ammo, weapons and missiles (stored in several TLs) have several military complexes that are selling most of their goods away now. I have fully automated empire thanks to CLS script, which virtually runs for itself without any intervention. I have 10 fully upgraded and equipped TSes with fully trained pilots stored in my Aran, to fill in possible TS losses immediately . Almost every factory has detention of internal security forces (usually pair of Skirons).
My main bases are:
ANH Twisted Skies sector
(with PHQ and majority of ships I personally fly) and
Elysium of Light sector
with two EqD's (Atmolifter full of guns/missiles on each) as backup resupply point and home for boarding Cobra crew and OOS quick intervention forces (three Osakas, alpha, bravo and charlie and Odin with 44 Cutlasses /70 polters in each) - these guys help clogging Xenon outbursts on Xenon sector gates when necessary.
Also I have universe wide xenon sector-gate blockades, with 3 Terran warships at every gate /4 on critical points - all in all I have around 34 battleships on gate blockade duties, 21 Osaka, 6 Tyres, 3 Phoneixes and 2-3 others. All of them were stolen btw : ) Every battleship team is backed up with 100 LTs placed at OOS gate entry point. System works great and xenon are not present in my space. My financial state is stable on 2 billions cca, income is good.
Greetings AI, welcome to Commonwealth space

The *BIG PLAN* /why all this...?
Universe is quiet in my current game - even too quiet. NPC economy is quite developed, I connected universe with HUB (argon prime - OL - queen's retrib.), built hundreds of factories for NPCs, always had certain number of my traders to help speed things up a bit (20-30) and universe is quite safe, little traders going up and down, blue pirates and everything - All is great but boring too : ) What did I build up that army for anyway? Stored away tenths of thousands of missiles? We need war my precious, oh yes we do. If you read intro about my company and the way I play this playthrough then it's apparent then I cannot go on some CW race, or any other race for that matter. It is just not in nature of this character I'm playing. Luckily my esteemed colleague Xenon hunter Bill Huntington noted me that
if by some means SY in Xenon Core 023 would be destroyed, Xenon would go berserk, sending large fleets out of all other sectors, maybe even to the rest of the game (!!) The minute I read that I know that I want to try it : )
So major invasion, Xenon overflowing my blockades and laying waste to civilized space? Yes please!
Cry havoc and let slip the dogs of war.
That was the plan. Piss out the Xenon and endure the consequences, killing as much machines as possible in the process. Full scale Xenon wars.
I'm going to try assaulting main Xenon invasion sources (as Xenon 598) on preemptive strikes - better kill them on time then allow them to trouble my blockade forces. Whenever my blockade sends "your ship is under attack" message, xenon sector neighboring will be laid to waste. That's a good plan. I expect low or none causalities - I plan leading almost every operation IS myself.

Personal Info:
Tycoon 44%
Battlemaster 71%

Stations: 342
Ships: 412
Satellites: 288
Lasertower: 966

43 M2's - vast majority on xenon gate blockade duties (around 34 M2's)
4 Carriers - I count Panther in, Aran, J waiting for RE and Odin, basically only two functional M1 vessels, clumsy Odin and fantastic Panther.
13 M7's - one M7M, one 'aggressive transport' (Aegir 'Guntruck', used for LT placement) one M7M, most of others my personal attack vessels.
M6's - 27, good part of them on factory security forces, several SBs for supplying /fast cargo transport /special tasks.
Hundreds of traders and dozens of TLs, irrelevant.
Here is list of my PHQ ship that will be flown personally in this conflict:

TC Boreas 'Kull The Conqueror'
TC Tyr 'Aegis' - Strategic AA command (8 PSP in nose /48(!!) SSCs : )
TC Brigantine 'Jolly Roger'
TC Odin 'Thumper' - 44 Cutlasses /70 polters each - 30% missile chance
TC Panther 'Vengeance'
TC Shrike 'Tlojolo'
TC Skirnir 'Toxeus' /last resort - has appropriate "private" shadow fab.
TC Hyperion Command
TC Springblossom 'Shakal'
TC Viper and Hades /filled with thawks, just in case. Also have fab /unlimited ammo.

Additional forces 'in reserve':

TC Titan Centaurus
TC Agamemnom 'Babylon'
TC Deimos 'Unholy Fire'
TC Tiger 'Entropy'

Twisted Skies, Company HQ

Phase One - Testing
First I needed to gather some info about behavior of xenon when agitated and strength of my blockade forces. As you know when you level xenon sector up, other sectors generate number of forces and sending them to replace losses. Qs and Ks are also spawning in the sectors (except in 472) out of thin air. SY and bases are respawned after certain time too. So I took my Boreas, broke the ceasefire and level one xenon sector. Nothing special happened in next few hours so I leveled three sectors more : ) Then it begun. I never noticed a problem (there were no Betty warnings issued about attack on my ships) but I started to see K's and Q's in my space, and I haven't seen those guys for a while. My blockade forces actually held well but when Xenon
really
push out - number of ships do get past my gatekeepers, deeper into sector. Then my Osakas start chasing them and leaving their gate posts, then more xenon pour in and many of them succeed in penetrating further. Xenon seem not interested on my forces, they go deeper into CW space about their business, so I had to hunt them down manually.
My answer was - more battleships! I've send down Boreas, Tyr and Osaka, plus 4 gatekeepers there was 7 Terran M2's at gate. They had to be babysitted whole the time not to wander away - that has proven to be biggest nuisance of xenon increasing activity. Xenon luckily seem to push at one gate at the time. First they besieged Grand Exchange for day or two, then they tried at Nopileoses Memorial, but not as strong. After two days they pacified again. Good. Experiment was successful. War can begin.

Phase Two - Incursion
Of course, I wanted to test up as much of my fleet as possible. I attacked directly sector 598, below Zyarth's and north of Grand Exchange, I decided to take my new Odin and give it a test ride. Of course, trying to deploy your wings on Xenon gate ambush was not such a great idea. I've got killed few times (I'm quite persistent : ) before I've changed tactics. This time I brought tin can opener, Shrike. It was better but still...

Ship observations - Q
Contrary to popular believe - Q is actually quite dangerous opponent IS, the bigger ship you fly Q gets nastier. It's basically anti capital killer. Fast and agile, with tremendous firepower in his spinal + forward firing PPC lateral turrets. Sure you'll say he will spend it's limited energy fast - this is problem if YOU fly it - it's not a problem for AI - AI ships don't live for too long anyway. It was designed to deliver as much firepower as possible in short time and does this flawlessly. Three of those together (like on gate ambush xenon often set at their gates) will pose serious problem even for M2. Small and more agile craft do get upper hand. Weak turret placement with big defense holes can be easily exploited, even in MD armed M5. Q has all the power in his nose, if you can avoid him facing you you should be OK. If not - it will hurt.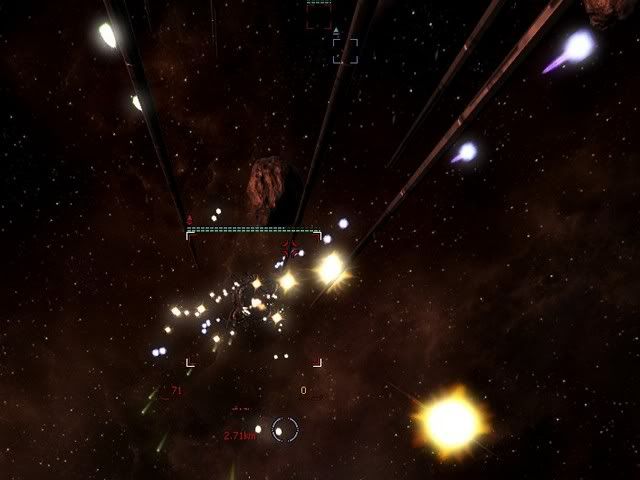 This is how Q greets

Ship observations - Shrike
I've concluded that my dear old Shrike is not as effective in demanding engagements as I've hoped to be. Simultaneous multiple capitals engagements do pose a problem. Three Qs at gate may get you killed. Shrike punches hard but can't completely outmaneuver incoming rain of fire. Q will face you, I usually avoid most of incoming fire but even lone Q aggroed by you in middle of sector will stripe down 20-30% of shield before it drops dead. You'll say that all that is expected more or less but there are other ships that do the job better. We are talking about most demanding and most difficult encounters here, not something that most of people face in TC.

Battle technique - avoiding fire
I believe I somewhat brushed up on my combat skills in this little war. On avoiding enemy fire I use not only regular strife, but steer away incoming bullets as well, so as accelerating decelerating often. Some experienced pilots will say that changing course and speed is more important then strafe in avoiding fire and I agree. I would estimate then I can steer 60% damage away, strife 30% more and avoid another 5-10% with acceleration /deceleration. I position myself outside of ship (F2), take some distance and put camera bit up. That way you can see incoming fire from all angles very well.
Here is how I engage capital with capital (M7 and up) now in most of cases: Usually I fly not directly but slightly leaning right - left side towards enemy, letting my lateral turrets fire as well, I wait for last moment before enemy fire stream hits me then I steer and strife at same side - towards
left+down
/edited +steering left /pushing slightly nose down (making mild letter U with bow) avoiding almost all of incoming fire. This is fairly effective, Boreas or any M2 can kill Q this way in single pass with almost none damage to the shields (1-2%)
Approach phase
Avoid phase
Some ships require certain modifications on technique obviously (shrike likes to charge head on /because of forward firing turrets, I like to keep him still while enemy approaches, longer it shoots and kites, the better)

Sectors 598 and 627 / Odin, Panther, Tiger
As I've said I tested few ships there. When I've cleared initial blockade with Shrike and Brig, I called
Odin
in, did a few test runs on big "real" carrier, not those small ones like Panther or other M7. For reasons I will explain shortly I pulled back the Odin and demoted it to OOS vessel, role he performs fabulously (though he is accompanied by three Osakas : ) unlike his first and last IS fight in which he proved completely disastrous. You know the tales of fighters crashing on Odin's tail /engine fins? Well they are true and worse. I've lost dozens on cutlasses on collisions with ship, that thing is just too huge. Seem that my stupid cutlasses could not find the way around. Not only from back to front but all routes around the ship posed immense problem for my fighters. They would collide with every possible part of the ship, again and again. "Thump...Thump...." sound just kept going on and on. Gentlemen, it was real horror story and I don't exaggerate one bit. Oh yes, i tried to pull up, strafe down etc. but that would only partially and temporarily solved my problem. I've tried performing somewhat successful engagement four times. Each time I had far more casualties from collisions then from enemy. I have plenty of pictures like this, all with different fighters and all on different part of ship, but I will post only one:
"Oh c'moooon..."
At least polter hailstorm did as expected.
Morale of the story is: Use Odin OOS. There he performs great, has a strength of almost M2. On the other hand,
Panther
.... yes well, the Panther : ) This vessel is jewel. Turrets allow you concentrating en evading enemies and speed and maneuverability allow you to pull off stunts Shrike could only dream of. You could engage enemy at any angle, you don't have actually to turn your nose at it. This advantage can be crucial if you know how to use it. I've cleared rest of 598 and good part of 627
not using fighters at all
. Best thing is that you can evade anything. Split M7's accelerate and decelerate much faster then Shrike. If you know what you are doing you could just take down one opponent after other and remain virtually unharmed. Panther can pack 6+2 IBLs on single target making it among most potent M7 anti capital platform in game. He can mount up to 16 FLAKs making him arguably most potent AA platform in a game. He has among best speed and steer of all M7, best weapon generator in class, have most numerous gun mounts, and they gave it 32 fighters, just in case. From all other frigates in the game, Panther is just other type of animal. It was probably favorite ship of some Egosoft executive. That would be only explanation for
that
ship ; )
Yeah, you are gonna hit me, riiight....
Tiger
is almost equally good, he is even smaller target from the front and can mount (and charge) 8 IBLs at front /Panther only 6. Thing is that I often hit "energy low" mark with Tiger. 8 IBLs can shoot for 27 seconds while 6 of them can shoot for whooping 52(!!) secs. FAA on both ships did prove to be of least of my energy problems (Although Panther has 16 potential FLAK mounts /Tiger "only"10 /Shrike has 4 : ) IBLs are those who suck that energy like there is no tomorrow. In theory FLAK even suck more but it seems that hey rarely shoot constantly. For a dogfighting and general melee both ships are great, Tiger has slimmer profile and guns you control directly, you can also charge main guns, in certain scenarios both things can be very helpful. One other jewel about Tiger - his both turrets lateral turrets can shoot directly forward /and do this very often - they are fabulously placed (unlike on Deimos where I often wandered "do I have IBL in my left turret at all ...?") Not that you actually need front shooting lateral turrets with Tiger and his 8 IBLs in spinal - 12 IBLs do sound nicely (and I guarantee that they would fire much longer and do more damage then any Tresher weapon combination) but they are just too much, even for Split weapon generators.

EDIT/ADDED
For Tiger I devised slightly unorthodox weapon setup - only 6 IBLs at front ( grouped at 6 and 4 for more distant shooting /2 spaces empty : ) 2+2 IBLs in l/r turrets - they shoot directly ahead btw (when you do heavy maneuvering from outside turrets are useful, you need to put that pressure constantly) and pair of flaks up/down/back (enough, if I am swarmed I just fire several typhoons) and I must say that it works like a charm. You must still be careful because you can be swarmed with multiple capitals but for platform that goes 330m/s+ of turbo there is no more deadly ship then split M7 family. With this setup there is probably no more deadly anti capital platform in entire game. You can launch 6+4 IBL charge (manually, ahead of "time") on approaching capital (if it's smaller then M2/M1 it won't survive initial volley) and later you can avoid fire kiting /with outside view, while 2x2 strong IBL turrets can shoot
forever
in full strength fully on weapon regen.
Needles to say sector 598 and neighboring 627 were cleared with little problems, it was good testing ground for several of my ships in heavy duty conditions. It showed the machines that they have no place in
our
galaxy, as small demonstration of grim things to come...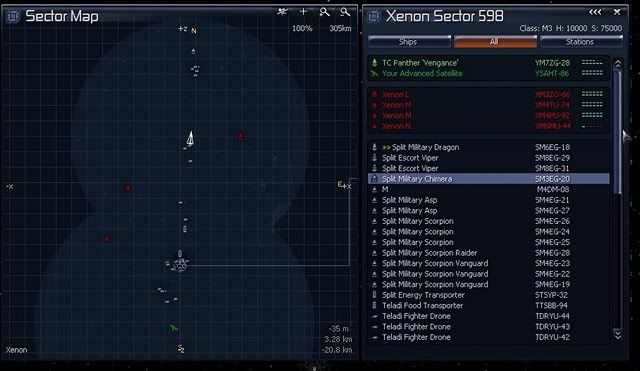 Friendly Split government send in small battle group, they did get too late though but the effort was noted : )
(...to be continued)