MOBILE MINING HOWTO by deca.death
If you want to learn about mobile mining - you've come to the right place. Whole thread begun by my simple request for some quick and effective, possibly even automated mobile mining setup for my HUB plot line huge mineral requests. It ended up in vivid and informative discussion of which most important parts I have extracted up here in a place of my first post, for easier future reference.
This is not all.
There are many more interesting facts and info about various aspects of mobile mining, especially large scale,
insanely
large scale of mining and various related problems, settings, advantages and other, so if you need more info, I'm afraid you'll have to read everything : )

Special thanks to:
Infekted
MarvinTheMartian
glenmcd
Whose sentences and paragraphs I butchered, modified, pasted together and mixed up in most abusive ways possible. They are full rank co-authors of this article. If I forgot to mention someone, my sincerest apologies.

Mine Minerals /Collect Rocks ??
First a small explanation: There are two ways of doing this. One is
mine minerals
, other is
collect rocks
. With MM command you won't have to break rocks in collectable chunks, miners will do that for themselves (will need guns and few additional sw. upgrades, it will be mentioned soon). Miners will go out and collect exact type of mineral required, which is good thing (if there are many chunks present on the spot, CR command can end up collecting "wrong" ones, there are ways to avoid this). Bad thing is that you cannot select ice or nividium for this command - as there is no option for it under the mine minerals command. They can only be picked by other CR method. And yes, if you go for MM, don't homebase your miners, or they will stop command when full, which can be pain if you have plenty of them.

About Miner Ships And Pilots
First, you'll need some miner TS ships, for example you could buy Caiman Miners from Patriarchs Conclusion. The L sized come with 4xFBL. which imo is way overkill for mining, so you can sell them back and equip smaller /cheaper gun, if you want. Any will do so cheapest is best, IREs work fine. They will have all other stuff pre-installed, just upgrade speed, steer (don't upgrade cargo, it's expensive and unnecessary) and go. If you want to "collect rocks" only you need no guns. BTW any ship capable of carrying XL cargo can "collect rocks" if it has the Special Command s/w and an Ore Collector, "Mine Minerals" command also requires a mineral scanner - the miner variants have these already installed making it easier to set up a large fleet.
BTW You will need trained CLS pilots for your Haulers and Delivery vessels. Here is how to get them:
Kor'ah CAG/CLS pilots training guide
- Or just hire/fire pilots from trading station in Herron's Nebula until you've get Cargo Messenger ranked pilot . All my CLS ships start at a minimum of Cargo messenger. They all have ten drones and 20 mossies as standard. To do otherwise is basically making a rod for your own back. A cargo messenger can use at least 15 waypoints. I know for a fact that one CLS ship can service ten miners, then fly 60km to drop off then fly back to the miners with no filling problems whatsoever. One CLS ship can service at least 15 miners provided it doesn't have to move. I.E. The TL is sat on top of the miners.

Choosing Sector
You want to mine somewhere you don't visit often, safe sector away from transit lines and problematic sectors /routes. "Dead end" sectors are best for this. I like the unknown sector south of Menelaus Oasis. Never go there normally. Very very safe. I have mobile mined in that unknown sector in many games, for a loooong time in each. Provided you make sure no Pirate base spawn there, you will never see a pirate there. Or xenon. Khaak can occur before completion of OFF but its vanishingly rare occurrence... Nothing an few defense crafts cant sort out with ease (I would recommend pair of Skirons because they are tough and fast). About the only ship you are likely to see is the occasional recon craft. That's it. This sector has every mineral.

Ground Preparation
Fly in, blow up the silicone asteroid closest to gate (Hornet or MDS will do), then mince all bigger rocks to collectable size (if they disappear when you hit them, you are overdoing it : ). Drop a sat just above the cloud of debris. Order them move to the satellite, and then to collect rocks. If you only blow that one roid, they will all stay there on the spot. If you blow multiple they can end up in odd places. For me, the key has been to break down as much debris in to collectible rocks as possible, this allows for much faster collection - freighters spend less time trying to collect the same rock, the rocks will also re-spawn more frequently so again the operation collects faster. Choose solitary roid with no collectable chunks around if possible. High yield is not been confirmed as necessary although some people mentioned that it's possible miners will loose time on rocks with yield=0 so keep that in mind and don't overdo it, with poor yield roids. Anything with yield 25+ should be enough. You can break several roids, maybe of various type and put one miner group to each.

How Much? (About Quantities And Effectiveness)
Each rock collecting ship, regardless of the type of ship, official speed, hull integrity, turning speed etc collects 1,2 or 3 rocks every 20 seconds. Looks like the average is around 1.3 to 1.4 (a guess). With all silicon mines used (L size) in Ore Belt, they will produce 4954.3 silicon pieces per hour. For rock collecting ships to match that, you require 21 ships. Assuming you use Mercuries fitted with special command software, rock collectors, youre up for around 220K per ship. Multiply that out and the total cost is 4.62M. The cost of the 29 silicon mines (Teladi is cheapest I think) is 26.2M plus 7.27M if you connect them with CCKs. So if you forget about silicon mines and collect rocks instead your up front costs are cut by 87% for the mineral component. You also need to take into account static costs such as TLs used to move the minerals to your complex.
As microchip complexes are limited only by the number of factories present and the silicon available, with a fleet of 230 miners, you're looking at a chip production capacity around 11 times compared to using silicon mines. You can easily get 70 chips into a balanced complex in Ore Belt, thus with your fleet you could feed 770 chip fabs. Another way of looking at this is that you can build whatever size complex you want in any sector you want rather than only in sectors with sufficient minerals present in the form of asteroids.
When you've completed the hub you can get most of your credits back by flying the Mercuries back to the shipyard and selling them. Whatever upgrades you got in regards to software, engine tuning etc you get back 100%. With mines you get additional lag both IS and OOS, increased sector loading and unloading times, nearly ten times the up front cost, and no way of selling them when the hub is complete. If you don't feed them they flash yellow. If you destroy them they continue to lag until they go away, perhaps in a few game weeks. One disadvantage of collecting rocks is that you need to manage them, unless you can get it happening unattended. Others have using CLS but I haven't as yet.
I know for a fact that, my 230 miners is slightly over supplying 50 crystal Ls and 250 microchip factories. I think 200 would do the job. As that's what I have set up now. So basically the equivalent of 500 chip factories. I used the hub plot count-down to guesstimate the rate of collection over an hour (SETA 10x for 6 mins) and my mining operation next door to Unholy Descent delivers almost 5,000 units per hour from 16 miners. So basically 2 miners supplies 5 S sized factories or one L sized factory. 50-60 should pull in enough to supply roughly 25 crystal fab Ls, or 125 microchip factories.

Basic Setup
Easy set up would be 20-50 miners. Some people are using TL to as collector but I like Hauler versions of same miner TS type. You don't have to use Haulers, however, investment is minimal (1 hauler per 10-15 miners) and it's more neat that way, especially if you are using multiple miner groups, you could have 2-3 broken stone areas (for each different mineral respectively) and TL(s) in the middle of those mining fields, which is how my example looks like. I don't like idea of my TL flying around and collecting, he should stay put and store things. You might use TL collectors if you like, but bear in mind that picture examples and numbers on this thread are given for TS haulers, you need to use much lesser "collect on" values (like 1%) if you want to use TLs.
In brief:
1. Find some mineral debris or blow up a (somewhat lone) asteroid, use hornets or bigger (or MDS).
2. Shoot the debris with your own ship, regular lasers (nothing too powerful) to break it into collectable rocks. If they disappear when shot - you're overdoing it.
3. Drop satellite just on top of the debris.
4. Leave the sector (preferably forever ; )
5. Order TS Miners to the position of the Satellite (or if they're all in a shipyard command all docked TS to follow Satellite)
6. Order Your TL storage to go very near same position (all miners should be in 5km transporter range)
7. Once there, order each miner to collect rocks.
8. For every 10 Miners (if they are very close as advised, you can pull off 15 miners to one CLS2 pilot). Set a CLS2 Hauler to collect silicon from them and deliver to the TL storage.

CAG Settings
Allright, I promised some settings, so here they come. My mobile mining ship setup you can find earlier in this post, I have two groups of 10 miners, Caiman Miners, each group mining one rock, each tended by one Caiman Hauler collector and one Orca as delivery point in between.
One Mistral SF towing silicone away, now in my pair (low yield) mines complex which serve as CAG sell point (on some calculations this setup should produce approx 5k silicone per hour, never checked though). This selling point is tended by 7 Mistrals SF trained CAGs with 50 jump settings and low silicone price and this seems to work.
This is how it looks (sector is south of Menelau's Oasis)
I use groups because they are more tidy to check and supervise, but if you cram everything to one point you could probably pass for 1 collector on 15 miners rather then 10. I like it this way even less effective.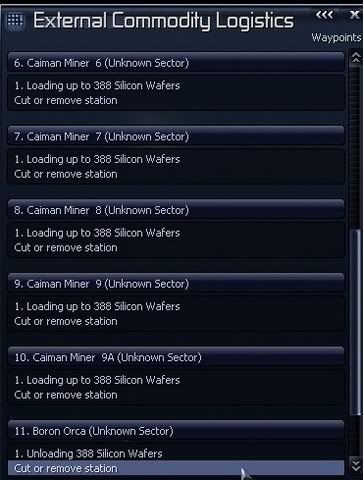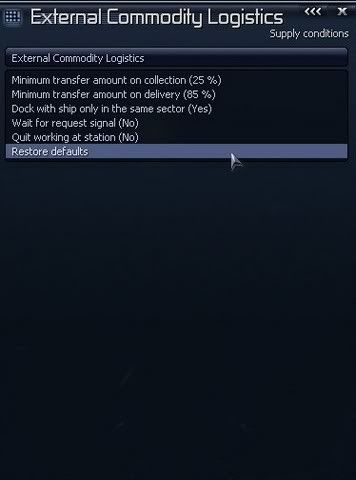 This is collector setup. Note load condition
up to
and unload for
fixed amount
. In theory ships should empty in Orca when nearly full but in practice they go even half full. Unload condition is hardest to figure out of all. I tried experimenting with it just now but results are utterly inconclusive. But never mind that, this setup works just fine.
This is Mistral SF setup used to tow silicon to Hub or wherever. Load condition could be 90%, same for delivery.