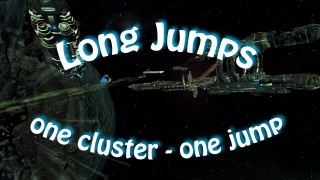 Name: LongJumps
Version: 1.01
Autor: eliseeff
Requirements:
game version 2.51 or higher
Install:
Subscribe to the mod on the
Steam Workshop page
Uninstall:
Unsubscribe from the mod and delete the mod folder
Savegame compatible: YES
XR VR-edition Steam Workshop page
Description:
Removed intermediate jumps between sectors within clusters. Between the clusters the ships fly as usual - through the gate. Thus, among other things, the mod also unloads the accumulations of ships near the jump beacons.
Changelog:
1.01 - Minor changes in the syntax, timed to the publication on English.