Name: Equip drones at the shipyard
Version: 1.02
Autor: eliseeff
Requirements:
game version 4.0 or higher;
Mods Options Menu
Install:
Subscribe to the mod on the
Steam Workshop page
Uninstall:
Unsubscribe from the mod and delete the mod folder
Savegame compatible: YES
Changelog:
1.01 - Fixed a line with Cargolifter URV, duplicated in the menu in some cases for warships.
1.02 - Fixed a line with Cargolifter URV, duplicated in the menu for warships, having cargo (Phoenix Maradeur in vanilla game).
XR VR-edition Steam Workshop page
Description:
If you built ships at the shipyard, you probably know that they are equipped by default with compatible mining drones. They can be removed with a slider, but doing this each time is inconvenient.
This mod removes the addition of mining drones by default. In addition, you can configure the number of Cargolifter and Construction URVs by default for combat ships, construction vessels and other ships using the special settings menu.
In addition, the accessibility of the Cargolifter URV for the combat ships at the shipyard itself, which is absent in the original game.
Changing settings:
Select the Main Menu -> Options -> Extensions -- Options.
(Enter - 9 - 3 by default or Enter - 6 - 2 for legacy menu)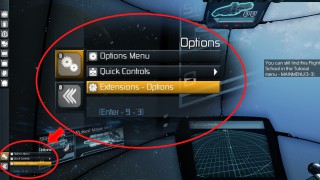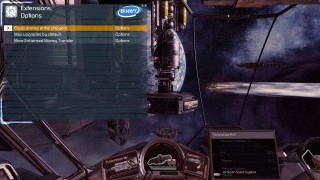 Select "Equip drones at the shipyard | Options" and press Enter.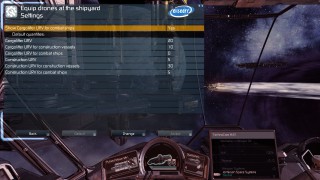 Now you can select "Change" and change settings. Don't forget to confirm by "Accept" (become active if settings are changed).