EGOSOFT is very happy to announce the release date for the long awaited 4th part of the X series:
X4: FOUNDATIONS will be available on Steam, GOG and egosoft.com on November 30th 2018.
X4: FOUNDATIONS brings our most sophisticated universe SIMULATION ever. Manage your assets or EXPLORE space in first person. Fly every ship, TRADE and FIGHT to BUILD your empire with modular station construction and THINK carefully when embarking on an epic journey.
X4: Foundations - The start into the X4 universe
X4: Foundations will feature an extremely large universe from day one. Home to several factions of the Argon, Teladi and Paranid races, each with multiple complex economies. The Paranid, for example, are a race with very deep religious beliefs, fractured into two competing empires and now raging war against each other.
Then there are of course also a lot of other potential adversaries: Those where you have a choice, like different Pirate factions, and those where you don't, like the infamous Xenon: A race of advanced artificial general intelligence, once built by mankind themselves to help colonise space.
There will be Expansions, which will bring more races, their ships, stations and lots of missions into the X4 Universe. Our goal is to bring the first big Expansion within about one year.
X4: FOUNDATIONS will be available for $49.99 (€49.99) on November 30th.
Preorder X4: Foundations digital Collector's Edition today
Starting today you can pre-order the digital Collector's Edition and get:
X4: Foundations base game
Exclusive pre-order paint mod (requires Egosoft community account connected with Steam account; GOG will provide an X4 registration key for the egosoft.com forum)
The X Universe digital artbook 2018: Enjoy the concept art behind the X universe.
X Novel: Nopileos by Helge Kautz as English and German eBook.
Digital Soundtrack: Download the music, including exclusive versions of the trailer and teaser music in highest possible quality.
The X4 Collector's Edition will also include the first two Expansions for X4: FOUNDATIONS:

First Expansion planned to be released in 2019
Second Expansion planned to be released later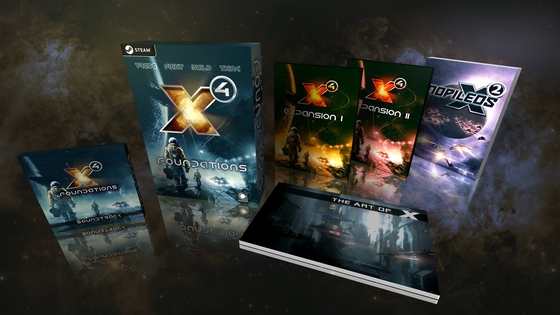 Order the Collector's Edition of X4: FOUNDATIONS now for the discounted pre-order price of $74.39 (€74.39) at:
Our own online store:
https://www.egosoft.com/shop
or from Steam:
https://store.steampowered.com/app/3921 ... undations/
or from GOG:
https://www.gog.com/game/x4_foundations ... n_preorder
Watch the official X4: Foundations trailer
here
: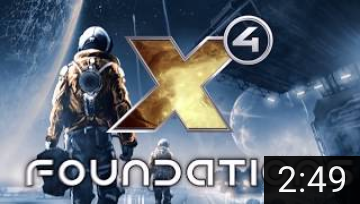 Watch the X4: Foundations Gameplay demo video
here
: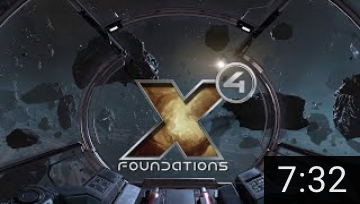 [Edit: 2018-10-14] Please find answers to commonly asked questions about the pre-order and release of X4 below:
System requirements
What are the system requirements?
Please note: The following system requirements are only
estimates
. There's a good chance that these requirements will change until release. Whereby we consider the minimum requirements already fairly stable.
MINIMUM:
Requires a 64-bit operating system and processor
OS:
Windows 10 (64-bit), Windows 8 (64-bit), Windows 7 SP1 (64-bit)
Processor:
Intel i5-4590 2.7GHz or AMD equivalent
Memory:
8 GB RAM
Graphics:
Nvidia GTX 780/970 or AMD equivalent (Vulkan support required)
Storage:
12 GB available space
Additional Notes:
These estimates may change until final release.
RECOMMENDED:
Requires a 64-bit operating system and processor
OS:
Windows 10 (64-bit), Windows 8 (64-bit), Windows 7 SP1 (64-bit)
Processor:
Intel Core i7-6700K or AMD equivalent
Memory:
16 GB RAM
Graphics:
Nvidia GTX 1070 or AMD equivalent (Vulkan support required)
Storage:
12 GB available space
Additional Notes:
These estimates may change until final release.
What system can you recommend X4 runs well on?
We cannot make any specifc hardware recommendations, since the system requirements are not set in stone yet and "running the game well" is both subjective and dependent on the in-game context. In this kind of game the term "minimum framerate" is also completely meaningless. Put yourself in a situation where there is enough going on and it will start to slow down, because we don't artificially limit how much can happen in one place at one time, and of course the universe simulation will be going on in the background regardless. So it's safe to assume that there will be some variation in framerate in X4, depending on where you are in the game and what you are doing.
Having said that there are some
general statements
we can make to elaborate the System requirements posted above:
About the Operating System (OS): X4 requires a 64bit operating system.
About the processsor (CPU): The game has a similar threading model to XR. It will use two cores pretty heavily, for its core activities, and a few others more variably for other tasks. There is no fixed limit to how many it will use for those other tasks, but at the same time just increasing the number of cores won't necessarily improve performance beyond a certain point. With current-generation CPUs, which can usually run at least 8 threads on 4 cores, you will probably gain more from a higher core speed than from adding more cores.
About the graphics card (GPU): Vulkan support is required, whereby this is provided by the majority of modern graphics cards. This, however,

does not

mean that any graphics card that supports Vulkan also runs the game. Onboard chipsets like Intel HD Graphics or Iris are not supported. Mobile cards, which you usually find in laptops, might be able to run the game. However, please note that those cards are usually less performant and have fewer features than their desktop equivalents. For example a Nvidia GTX 780 (desktop) is not the same card as a Nvidia GTX 780M (mobile, note the M).
About the storage (HDD vs. SSD): As with most games, fast disk access will give the most benefit when starting X4. It can also help to reduce the incidence of assets "popping in" as they load during the game, though we do try to prevent that as far as possible with appropriate hinting anyway. As for the amount of disk IO, that's all about asset loading, not the simulation, and will vary depending on what you are doing.
How do I know, whether my system can run X4?
Start by looking at the System requirements posted above and compare the cagetories operating system (OS), memory and storage with your own system. If either of these do not meet the minimum requirements, you won't be able to run the game. Comparing processor and graphics card will be more difficult, as there is a great variety of those which also give different performance results depending on the overall system and usecase. The best we can suggest is looking for general benchmarks comparing your CPU and GPU with the ones from the System requirements listed above.
If you're still unsure about your system's performance, then feel free to discuss the system requirements with our community in
this forum thread
.
If you're planning to build/buy a new system and need feedback, then please open an own thread in the
Off Topic forum
.
Will there be a Linux version?
We definitely plan to support Linux. If a Linux version will be released from the start or a little later will be decided close to release.
Collector's Edition content
What is a paint-mod?
It's something used to adjust the appearance of a ship. It can consist of a number of attributes, colour being the most important. Other features of paint mods I will leave to be announced more formally. A paint mod consists of a set of attributes. You can't pick and choose which ones get applied.
Will the paint-mod, which you get when preordering the Collector's Edition, be part of the normal game?
You won't get this particular paint mod with the game if you don't pre-order, otherwise it wouldn't be "exclusive" as described in the announcement. The paint mod feature is of course part of the game for everyone, however.
Are there other paint mods in the game other than the standard and exclusive one?
Yes, there are.
Do I have to order the Collector's Edition from the Egosoft shop in order to receive the additional items?
The items are part of the digital Collector's Edition. It doesn't matter where you buy it.
Is the Collector's Edition limited?
The digital Collectors Edition will certainly be available after release, but as per the announcement, the exclusive paint mod is a pre-order bonus. Also, the pre-order price is discounted so it will be slightly more expensive then.
How do I connect my Steam account with my Egosoft account?
Click on your name at the top right corner of the forum, choose
User Control Panel
from the list that drops down, go to the fourth tab called "Egosoft Settings", then the second sub-tab called "Game Registration". The Steam link option is there.
Do I have to connect my Steam with my Egosoft account already prior to release in order to receive the exclusive paint mod?
No, as long as you preordered the Collector's Edition (i.e. bought it before release), you will receive the paint mod, no matter when you connect your accounts.
How do I get the exclusive preorder paint mod, if I preorder the Collector's Edition from GOG?
You will receive an X4 registration key, which you can use to register your game in the forum.
Which Format (epub, Amazon Kindle, pdf etc.) will the eBook have?
This is not decided yet. A pdf version will most-likely be included.
Platforms, boxed version and other purchase information
Will X4 only be released on Steam?
X4: Foundations will be released simultaneously on Steam and GOG.
What about a NoSteam.exe?
A NoSteam.exe for XR was first made available a year or so after the game's release. We cannot say when this will be the case for X4, though.
Will there also be a boxed version of the game (be it the normal version or the Collector's Edition)?
There are no plans for a boxed version of the game, Collector's Edition or otherwise, in the foreseeable future.
I want to support Egosoft. Should I order from the Egosoft shop?
Buying from the Egosoft shop is still the best way to support Egosoft. The choice is yours where you buy from, though, of course.
I have preordered the game through the Egosoft shop, but haven't received an email with my Steam key yet. What should I do?
This is normally a case of overzealous spam filtering or AV software. Therefore please first check your spam folder. If you've done that and are sure you didn't receive the email, then you can email
order@egosoft.com
with the details of your order and someone will look into it for you.