********
UPDATE 3.1 - READ HERE:
viewtopic.php?f=94&t=399184&p=4889591#p4889591
********
LxXRM - Install Guide
The steps will explain how to have a working, modded game.
You should ensure you have a clean base install.
* DO NOT INSTALL THE BONUS PACK OR SOME OTHER EXTRA STUFF *
LxXRM will do all what the bonus pack will deliver, but installing that with updated or better scripts.
* installing the bonus pack or other "lower level scripts" with LxXRM will corrupt your game with a high chance - do not do it *
I strongly suggest to make a copy from your steam installation to a place like D:/X3AP or something, so you do not have reinstall it every time something went wrong.
But you *can* use every path.
After that is done, follow the STEPs.
NOTE: THIS IS ONLY FOR ALBION PRELUDE !
STEP 1 - Install Cycrows Plugin Manager V1.531
You can find and download the plugin manager here:
viewtopic.php?f=94&t=265915
Use the first, big download button, not the beta or something.
Follow the guide how to install it, in the end you should have something like this: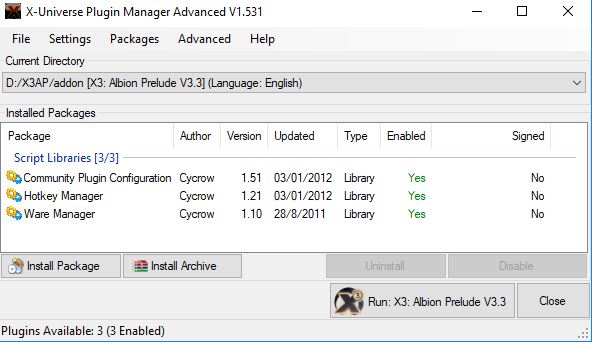 That will make your game marked as "Modified".
STEP 2 - Download LxXRM
http://ks4003297.ip-142-4-209.net/unrest/LxXRM31.zip
Unzip it and start LxXRM/SETUP.bat
You will see this (This screens are from 2.0, your bat will show 3.x+):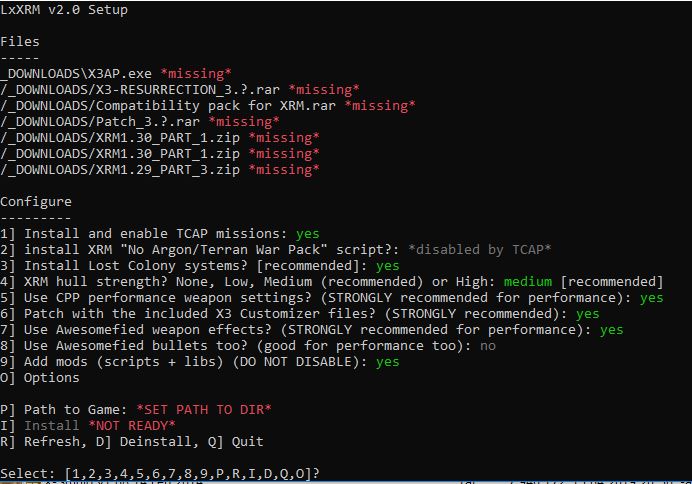 Note: If you still run Windows 7 or lower (you should not), you will not see any colors in the terminal, only windows 10+ can do it (yeah, microsoft...).
The installer will still work but if you want colors, just install a modern terminal in your windows 7, like the cmder, and start the installer from it.
https://cmder.net/
STEP 3 - Set the PATH
Press the 'P' key to set the Path to your game.
It will ask you for the path.

Type in the path and press return. The setup will tell you all is fine.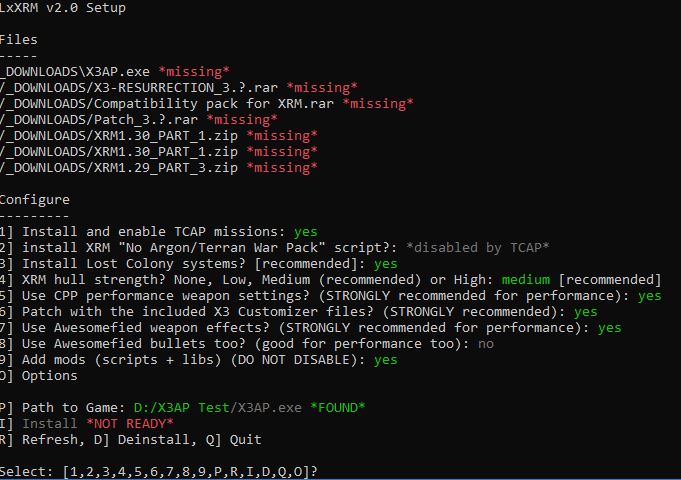 If you set the wrong path, you will see something like this:

Just press P again until you have typed in the right path.
If you see a "Plugin Manager" warning, you did something wrong at STEP 2 or you pointed the installer to the wrong path, where the game but no plugin manager is installed.

STEP 4 - Download the big mods and X3AP.exe (no steam)
I have not included 2 big mods and the X3AP "no steram".exe (Lucike is now included and need no external download anymore).
You have to download them and copy them to ...LxXRM/_DOWNLOADS.
DO NOT UNPACK OR INSTALL THEM! The installer will do that all for you.
You do not need the "no steam X3AP.exe" if your game is not from steam.
Just copy your normal X3AP.exe then to ...LxXRM/_DOWNLOADS.
You can find the no steam exe here:
https://www.egosoft.com/download/x3ap/bonus_de.php
Download now the 3 XRM install files from the XRM thread: XRM :
viewtopic.php?f=94&t=304158
Copy XRM1.30_PART_1.zip, XRM1.30d_PART_2.zip and XRM1.29_PART_3.zip to ...LxXRM/_DOWNLOADS.
Do the same for the Resurrection mod. Resurrection :
viewtopic.php?f=94&t=395259
Follow the steps on his website and download & copy X3-RESURRECTION_3.0.rar, Compatibility pack for XRM.rar and the latest patch Patch_3.2.rar to ...LxXRM/_DOWNLOADS.
Note: You do not need to rename the Patch_3.?.rar file when its 3.3 or something, the installer will find it out. Just ensure to have only ONE Patch file in, when you want update Resurrection from 3.2 to 3.3. later (at the point i write this, 3.3 is not out).
If all is done, you will see something like this: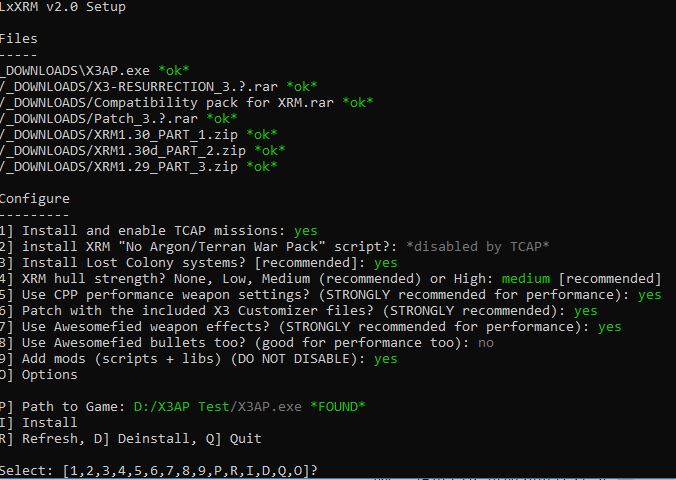 Hint: You can press 'R' key for refreshing the view.
STEP 5 - Configure
I suggest to play with the default setup first.
If you know what you do, you can change the configure parts just by pressing the key in front (like 1, 2, 3..).
There is a second part you see if you hit the 'O' key for Options, there is only the font size ATM.
STEP 6 - Install
Well, just press the 'I' key for installing.
It will ask "start to install?" - just type in 'y' for yes.
If it runs first time, it will unpack and prepare all the external downloaded mods for you - just sit and watch.
After the installer is done, you are ready to play!
Have fun.
Optional: UnInstall
One feature of LxXRM is, that you can easily uninstall it. Just press the 'U' key.
The installer will ask you to remove the mods from your game (so it will be as before STEP 6) and, if you want, to remove the unpacked XRM & Resurrection mods.
This is very useful if you update that mods.
You can then press 'I' again to install it. Rinse and Repeat that as often you want.
CHECK ALL IS FINE
You should see no ReadMETXT error in the game. Everytime you see a ZZZ_... or PLACEHODER in a shipyard or in a equipment dock, it shows your game is broken, sorry. It either means you have done something wrong when installing or you have installed a mod on top of LxXRM which has broken it.
There is one exeption, which is a pure visual glitch: If you did not have landed a few docks, the dock will show you ZA_EMP_WARE_BLANK_WARE if you look at the Eq-Dock with Info menu.
But thats only a GUI thing, if you land at the dock, all is shown right. You can see that effect at the Split EQ in "Family Pride" - thats the bording transporter extension. It is shown right after you landed a ship there and opened the buy menu.
That glitch shows up here and there is an old glitch. It will not effect your game, its pure visual and will vanish.
You can see at 2 point the docks and ship list are ok and lucike stuff merged right with XRM and all the other fake mods.
The first one is the Shipyard in "Argon Prime", the second one is the OTAS Shipyard in "Legend's Home".
In the Argon Prime Shipyard you see the weapon platforms, CODEA platform and other stuff from Lucike.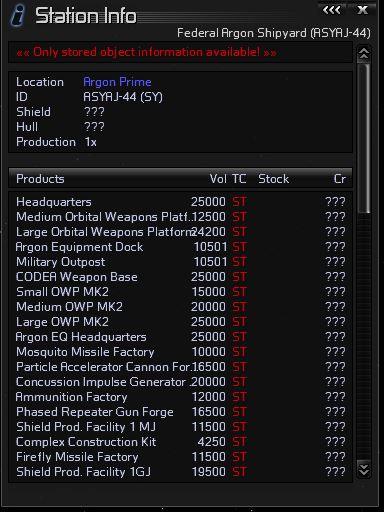 In the OTAS Shipyard you see the exta EQ from the Enhanced Equipment Docks.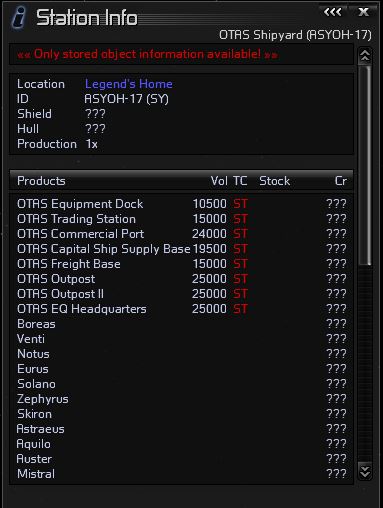 You can also check out Saturn 3 - there is the Dock where you can buy the Saturn Complex Hubs.
And again: There is no PLACEHOLDER or ZZZ_xxx marker - all ships and docks works.
If you see something like that ingame or in the docks - your install is broken.