There were 4 parts to the overall mission, the 4th and final part is to deliver a Vulture Vanguard to an area marked on the map (not to a station.)
I've purchased the ship, outfitted it per spec and have flown it to the designated location in space where I and the Teladi Captain sit twiddling our respective appendages.
I've only read that others were having similar issues because they didn't modify the ship as per specification, but the mission has no such modification stipulation, other than making a point of stating that all equipment slots must be filled which they are.
Mission brief: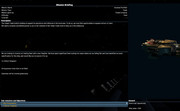 Ship details / Location: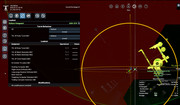 Technical:
Ver: 4.10 (458643)
Young Gun Start
Game time: 4d 7h 19m
No mods - vanilla game
DLCs : Cradle of Humanity
Split Vendetta
Collector's edition content
Noted several other bugs, but mission bugs like this are by far the worst.