Prologue - This is the life i choose
Weavers Tempest, what a sight to behold, there is nothing more beautiful than seeing The Yaki Armada drift past your window, you can't help feel but safe when there is a couple of Akurei's, a few Ryu's and countless fighters just waiting to protect their own. Not many people get to witness such a sight, and a lot of those who do; wish they rather hadn't as the Yaki are the most fearsome "pirates" in the Universe.
I use the term Piracy very lightly as it's very unfair to paint one race/organization with the same brush, there is more to the Yaki than meets the eye, yes we do raid the other races for the stuff we cannot supply ourselves just yet, but all the stories you have read or heard have been fabricated by the other race governments simply to try and control an organization with it's own Military, we have our own stations that need to be manned with a thousand different jobs, we have inventors of great things such as the ships we have and the weapons we use, we have station builders and we have traders.
As I am thinking all this I'm sitting in my new Tenjin, it's a good ship, can handle itself in a scrap, is fast enough to get away from most things that can kill it and has plenty of cargo space for carrying around the things I need such as missiles. All this makes me look like a fighter pilot but I assure you that I am not.
My parents used to work in the Yaki Shipyard as mechanics, they taught me a lot of things like how to use the repair laser built into the space suits to repair light damage, and they taught me how to use some ships, mainly the smaller ships like the Tonbo & Susanowa but they also taught me to respect all races. They let me choose my own path in life, I could be apart of the Yaki Armada, I could maybe even one day be captain of an Akurei but I choose a life of simpler things such as trading in small high tech equipment, my dream is to have the Yaki people being able to provide for ourselves and for us not to have to rely on raids to survive, this is the life i choose and i plan on living it.
I call up the built in navigation computer, luckily enough for me it has already been completed so I can go anywhere I want, I decide to move towards the Argon area ranging from CBNW across Argon Prime, down into CBSE and the surrounding sectors. On my way, my scanner picks up an Enhanced Pericles in Savage Spur – not the best ship in the world but free is free and to a trader free is credits. I send it of to the Yaki shipyard but not before stripping away its cargo, some Fragmentation Bomb Launchers – not the best and certainly not overly useful but they will sell for quite a few credits.
I reach emperor mines relatively untroubled, however I got a message from the Phanon Corporation warning me to stay clear of its ships, just because I am a Yaki, talk about showing prejudice? But I also seen something I hadn't expected, a Paranid Deimos, this is some piece of engineering especially coming from the 3 eyes. I once read a story where the Paranid were likened to the Argon cows if the cows stood up on 2 feet. This has always stuck with me and makes me laugh whenever one comes along, Mooooo.
I reach Red Light and although I want to trade my way up the food chain I am not in a position now to turn down easy money so I accept a defend station mission, a single pirate in a Harrier came screaming past me and straight into the station I was "defending" worried that I may have failed the mission considering the paint work got scratched and I didn't even see the harrier until it was to late I was pleasantly surprised when I was congratulated for my success and was giving a small reward.
I do a few other missions in and around Argon Prime and decide to get my Tenjin a Mineral Scanner; this proves a worthy expense as I quickly build my credit and reputation with the Argons & Borons. I then make a quick detour to Atreus Clouds and get myself Cargo Life Support (basically an oxygen mask in the cargo hold) as I have seen a few taxi missions being offered, a lot of them I cannot do due to cargo size but I think it's the fact that they don't think flying in a Yaki Tenjin is very safe, not that I blame them with the prejudice shown to us but I do get a couple of takers.
1 for 500k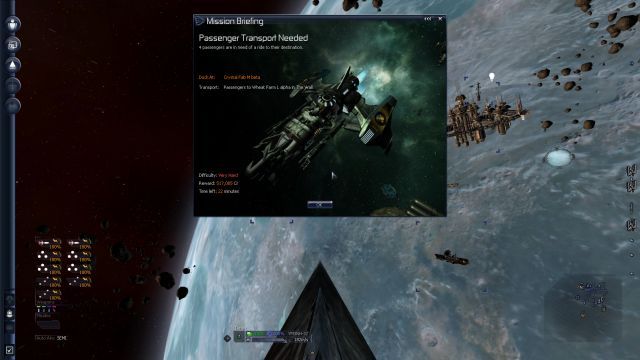 and another for 600k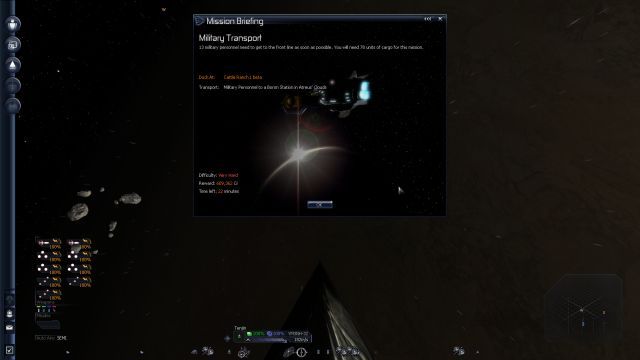 Not bad for a few minutes work and the docking computer make's life so much easier than relying on the auto pilot which has nearly had me look like that Harrier pilot from earlier. My bank balance is looking a lot healthier but I have noticed a small issue with the Tenjin, the cargo bay. Although it is of a decent size but with collecting a few choice missiles/weapons etc it is a little cramped and I have had to turn away a few taxi jobs so I think I have to invest my money in some other ship.
[/b]