This topic is intended to be an all-in-one resource for new Mac players to go to and quickly figure out how to Modify their game of Terran Conflict/Albion Prelude.
1. Finding Your Game Files
Whilst this may seem trivial enough, finding out where X3 keeps the game data appears to be 90% of the trouble that Mac users encounter when installing mods and scripts. This is due in part because of the fact that there are three distributors of the X3 games: MacGameStore.com, Deliver2Mac.com, and the Apple App Store. The problem is not helped by the fact that Mac OS is not always forthcoming with the files that you have.
The first step in installing mods is finding the Data folder, which, because of aforementioned reasons, could be in one of three locations. I will reveal these locations in examples:
Here is an example of a TC directory from macgamestore.com:
Here is a possible AP directory from a Deliver2Mac install:
And here is a likely AP directory from an Apple App Store install:
Regardless of all this, savegames should be in <username>/Library/Application Support/<X3-GameName>.
2. Installing Scripts and Mods Manually
If you've managed to obtain a mod or script contained in .zip format or something similar (such as Lucike's script collection), then installing is very easy. Once you've extracted the files, you'll note that the scripts are contained in folders with names "Scripts", "T", etc. These folders also exist in your game's Data folder. For Terran Conflict, installation is as simple as dragging the script files to their corresponding folders. The same is almost also true for Albion Prelude, except scripts go into an Addons folder, which should (or will) contain its own Scripts, T, etc. folders.
Some mods (like the X Rebalanced Mod) use big .cat and .dat files to add content. You install these via the Fake Patch method: in the data folder, you'll see .cat/.dat files numbered from 1 to some higher number, lets say it's 13. These numbered are official content updates from Egosoft. Lets suppose you have some mod files named AMod.cat/AMod.dat. For our example, you install these by placing these files in the Data folder and renaming them to 14.cat/14.dat. This way, you've fooled the game into thinking your mod is an official update. The only problem with this is whenever Egosoft/VirtualProgramming releases updates, your "patch" will be overwritten, and you will need to reinstall your mods.
3. The X Plugin Manager for Mac
It's a remarkable fact that when it comes to all of the X3 game files, functions, scripts and mods, etc., everything is compatible with both Windows and OSX. Unfortunately, given the PC dominated user base of X games, special tools required for modding or installing mods and scripts in the quite common .spk format were made only for PCs and not available to Macs.
Until now.
The X Plugin Manager for Mac is a port of Cycrow's X Plugin Manager, and is an app that excels in installing scripts and mods. It uses Wineskin technology that effectively wraps the Windows version of the Plugin Manager inside an interface, allowing the Mac OS to use it.
Download Here
--Installation and Running:
Drag the app's folder to your hard desktop/hard drive, and drop a dummy .exe (either x3tc.exe or x3ap.exe, both have been provided for you in the Plugin Manager folder) into your game's data folder. You need this because that .exe is how the Plugin Manager identifies the location of your game.
Before running the Plugin Manager app, you may need to alter the file permissions on your data folder. This is accomplished with right clicking the folder, selecting "Get Info", and editing the permissions to "Read and Write" for all users in the "Sharing and Permissions" section. Note that this may require administrator privileges.
On the first run, you will need to find and open that dummy .exe so that the manager will add the data folder as a new game directory. Remember that this app still thinks that it is running inside windows, so when you choose the location of you data folder, the directories will be organized as such. No problem: just note that to get to the Macintosh HD when browsing your directory, the HD is the Z drive (Z: ) inside My Computer. You will need to use the drowdown menu to navigate at first. Below is a picture for reference: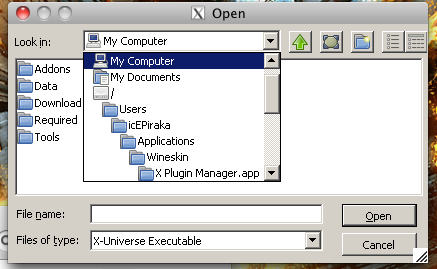 Do not try to launch TC/AP from inside the app: it will not work, as you will essentially be trying to execute a blank text file.
Otherwise, all functionality should be identical to that of Cycrow's original. No issues should exist at this time.
--Notes on Using Other Utilities:
The X Plugin Manager for Mac app also comes with six other utilities by Cycrow: X Plugin Manager Advanced, Cycrow's package creator, SPK explorer, XSP converter, Mod Merger, and a command line tool. Their true location is directly inside the package contents of the X Plugin Manager app, so to access them, right click on the Plugin Manager app and select "Show Package Contents".
If you wand advanced control over mod installation (such as organization of false patches), consider using the Advanced Plugin Manager. Usage of the package creator, spk explorer, mod merger, and xsp converter should parallel the operation of the windows version, although I have not tested them thoroughly.
Most users can ignore the command line stuff and skip down to the uninstallation section.
The command line app allows you to use Cycrow's command line utilities for spk files. This can be slightly tricky and annoying, since it takes a bit of searching to find these command line tools. Here's an example of how to extract the contents of an spk file:
1. Assuming the Package contents of the Plugin Manager app are revealed, locate and open the alias to the drive_c folder and navigate to Program Files/Egosoft/X Plugin Manager/Tools/. Place the .spk file here.
Note that you may wish to create an alias to the tools folder for easy access.
2. Start up the Command line app and type the following (this command changes directory to the Tools folder) and hit enter:
In short, the SPKTools retain the same functionality as in windows, but I recommend placing all the files you will manipulate and doing all your work inside the Tools folder, just to be safe.
--Uninstallation:
Move the X Plugin Manager folder and the dummy .exe in the data folder to the trash. The preference files for the app should be located inside Documents/Egosoft/, so for a full install, drag the following .dat files to the trash: pluginmanager.dat, creator.dat, spkexplorer.dat, etc. Your TC/AP install should not be adversely affected, but you may not be able to uninstall spks you installed with the Plugin Manager without the manager.
4. The X3 Editor 2 for Mac
The X3 Editor 2 for Mac is a Wineskin port of doubleshadow's X3 Editor 2. It is an advanced editor for modifying game and mod files. Installation is the same as with the Plugin Manager, dummy .exes and all.
When the Editor starts up, I believe you will need to edit your default game profile by giving the Editor the location of you game data folder and dummy .exe. This is similar to what you do with the Plugin Manager.
Other than that, no issues are apparent, and functionality should be the same as the original.
Download Here
(Note: 7zip file format)
5. Installing the Bonus Package and Mods in .exe Format
If the mod you want uses a special Windows .exe installer (like the Xtended Mod) or if you wish to install Egosoft's Bonus Script Package, you will simply need the installer file and either the Plugin Manager or X3 Editor (either will do).
Once you've downloaded the installer .exe, right-click(ctrl-click) it, select "Open With" > "Other…", and select the X Plugin Manager or X3 Editor 2 from your computer. You will have to give the installer an install destination. For installing the AP Bonus Pack, give it the directory to the Addons folder. For the TC Bonus Pack and mods like Xtended, just give it the Data folder. Then proceed with install (see above on info on data folder directories). Below is a picture on where to find your HD: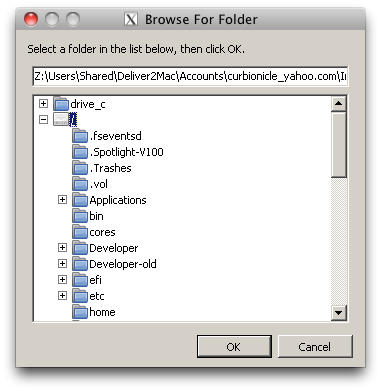 Assuming all that works and completes successfully, you now have a TC/AP install with the Bonus Pack, Xtended mod, etc.
I'd like to give a big thanks to Cycrow and all the others for such good modding tools and support, and to the Wine community for making cross-compatibility dreams come true.