Universal Cargo Transfer (UCarT)
Unleash the power of your Transporter Device!
Note: Universal Cargo Transfer is for

X3 AP

only
.
Introduction
Harntell Industries
is pleased to announce the immediate release of
Universal Cargo Transfer (UCarT)
, the new gold standard in cargo handling utility software for ships of all classes. Employing a revolutionary new software architecture that takes full advantage of today's powerful ship-based Board Computers, UCarT makes previously difficult or impossible cargo/personnel transfers routine, safe, and reliable.
Features
Transfer cargo between two ships -- faster and more capable than the stock "Exchange Freight With…" command. (For example, transfer a Jumpdrive and some E-Cells directly from that Discoverer landed in your Boa to that just-captured Blastclaw Proto -- no need to involve the Boa at all).
Transfer passengers / Marines between two ships
Transfer stations between two TLs
Collect flying wares (crates); collect a specific crate, or all crates in Transporter Range
Collect astronauts (bailed pilots and/or Marines); collect a specific astronaut, or all astronauts in Transporter Range
Collect deployed items such as Satellites, Lasertowers, Mines (the exploding kind), and Drones; collect a specific item, or all items in transporter range
Load player-owned stations (including player HQ and mines (the mineral harvesting kind)) back into a TL to be redeployed elsewhere.
Provides a single MultiTap Hotkey which can be configured to perform different functions when tapping it multiple times (the required Hotkey Library is included in the UCarT download, below -- hat tip to Gazz)
A comprehensive Preferences Menu allows you to customize the level of detail, audible feedback, and MultiTap Hotkey functions to your liking
Fully functional both in-sector and out-of-sector; runs on all player-owned ships with Special Command Software installed (hotkey functionality is obviously limited to the player ship, and station transfer functions are limited to TLs, of course).
Does not invoke the Autopilot ("Command Accepted"), nor does it interrupt the command(s) currently running on your ship(s).
Smooth, responsive, menus update dynamically in real-time, and provide a wealth of information (they even respond correctly to the ESC and DEL keys!)
Downloads, Installation and Uninstallation (is that even a real word?)
The ZIP file contains an SPK file that can be installed using the Plugin Manager as well as the script and T files that can be installed manually

Manual installation is a breeze; there are 29 script files (copy them to the Addon/scripts directory), and 1 text file (copy it to the Addon/t directory).
Manual removal is a breeze, too; simply delete the files referenced above.
Requirements
Special Command Software MK I
A Transporter Device is required for most (but not all) features; as such it is not required to make the UCarT command available.
Game Resources Used
Command Slot: 524 (Special Commands, slot 24)
T-File / Page: 8276
Screen Shots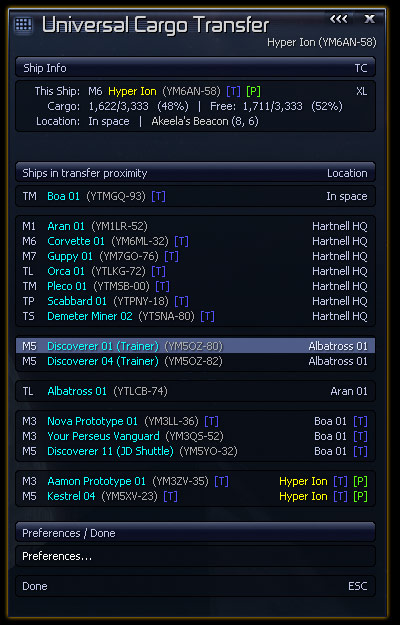 The Main Menu showing a list of ships within Transporter Range of the ship that invoked UCart (
Hyper Ion
), grouped by location, sorted by class and name. The ship
Discover 01 (Trainer)
was selected. Note that
Hyper Ion
is in space, but
Discover 01 (Trainer)
is docked at
Albatross 01
, which is docked at
Aran 01
, which is docked at Hartnell HQ (Headquarters).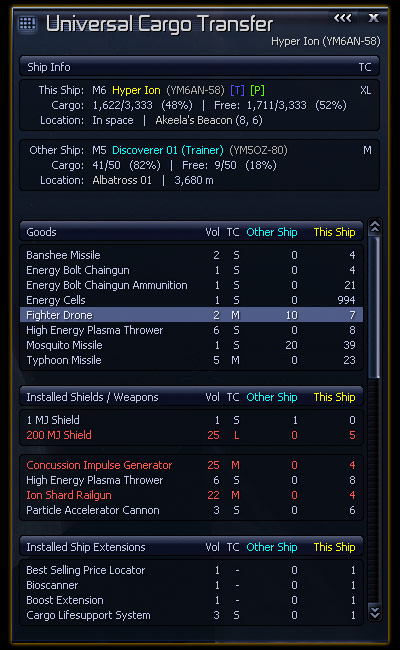 The Cargo Menu showing a list of items aboard each ship.
Items in red
are ineligible for transfer due to space constraints (not seen in this image:
items in orange
are built-in and cannot be removed, thus they too are ineligible for transfer). Fighter Drone was selected.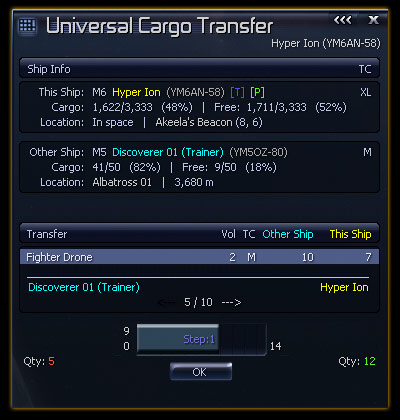 The Transfer Menu showing the selected item and a "Trade Bar" allowing the user to enter the desired quantity to transfer -- in this case, five (5) Fighter Drones. Pressing ENTER or clicking the OK button will complete the transfer of five (5) Fighter Drones from
Discoverer 01 (Trainer)
to
Hyper Ion
.
[Edited to activate download link, and correct a few typos]