Reactivating the well-known "screenshot of the week" feature, from now on we will regularly post screenshots informing you about the next great space adventure called 'X Rebirth'.
X Rebirth will move the events more closely to planets and space stations. That's why you saw a lot of bright and colorful places on the previously
posted screenshots
. But X Rebirth also has other areas to offer:
On this screenshot you see an area called "The Void". Located far away from the busy trade routes this place is everything but inviting. Those pilots that are brave enough to leave the populated zones will have to find their way through the dangerous minefield to discover the great treasures this place may hold.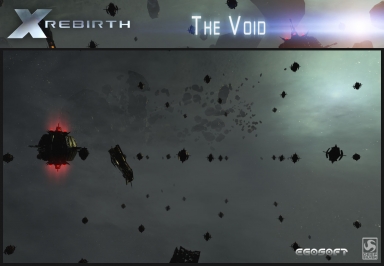 26.03.2012
In X Rebirth stations will consists of different modules, which you can upgrade with different elements. For example with shield generators or weapon systems. Even modules to increase the communication range were already mentioned. Another module type can be seen here: A Pump Station to increase the efficiency when processing and transporting liquids, such as water or fuel. That means there are not only station modules for attacking and defending, but also to increase the productivity of stations. Another game element for those that like the "THINK"-part of the game.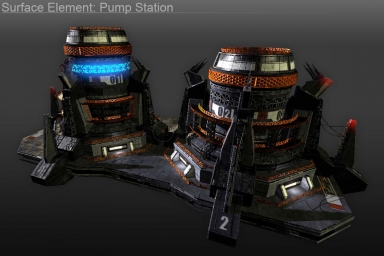 01.04.2012 (April Fools' joke
)
This weeks feature picture of X Rebirth shows a unique new way to negotiate prices. With "Move your hipsss for profitsss", you can use the Kinect for Windows controller to "dance down" the prices for any deal.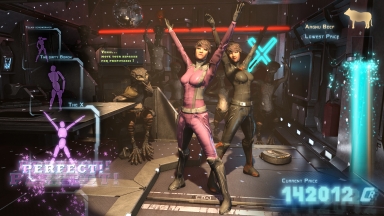 02.04.2012
This time we're showing you one of the new ships you will encounter in the X Rebirth universe. the Plasma Collector. Next to the known minerals gathered from asteroids there are a plenty of other resources to be found in space. This ship specializes in collecting plasma from nebulae and transporting it for processing.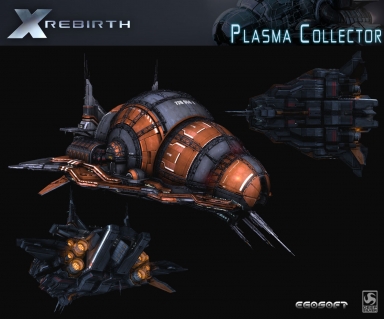 10.04.2012
With delay but when I saw this screenshot for the first time it was like
. Another part from the range of station modules. A dock for small and medium-sized vessels. The dock is shown alone in space. It therefore lacks the entire station around it.
Have fun with it and next week the SOTW will come on Monday. Promised.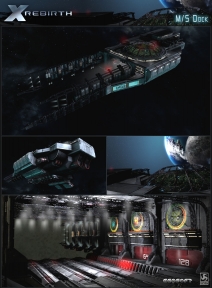 16.04.2012
Do you still remember the
pumping module
I showed you some weeks ago? I made a hint that it may be used to transport liquids over a large distance. Here you can see a possible use for such a module. When you look at all the settings you could think that it is part of something big.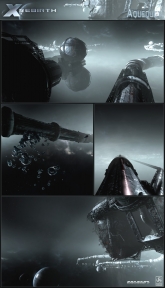 23.04.2012
The screen was replaced on short notice after repeated urging from the german forum. The old split capital ship became the basis of a colony. Surrounded by rock veins and patches of fog, it is held in place by cables, while small ships flying around it.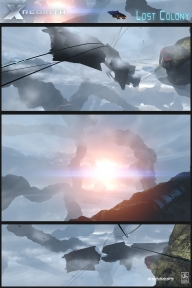 30.04.2012
As promised, the screen from last week. It is a station that has been built completely into an asteroid.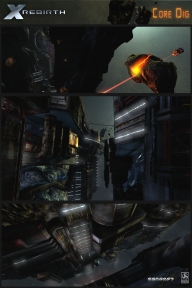 07.05.2012
We have already seen a mine field, a ship in a more stationary function, water pipes and asteroid stations. This week I have another unique place in the X-Universe for you. A mine that is placed in the Badlands. According to the general condition of this one, I would claim that the Badlands is not one of the safest place out there.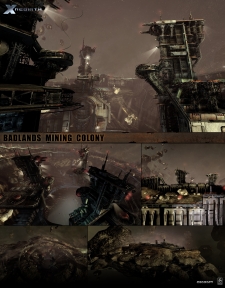 14.05.2012
This week there are four pictures. The first picture shows a mining drone. The second picture shows the shield drone. Both drones are still known by the GamesCom. And so the
Torpedo Drone
doesn't feel so alone among the other screenshots, these two images were uploaded, too. The third will be once every 3 drones merged and the activation sequence of the Torpedo Drone is shown in more detail.
Now to actually screen shot of the week. I myself can say little except that it really is a new screenshot which hasn't been seen yet. Have fun with it.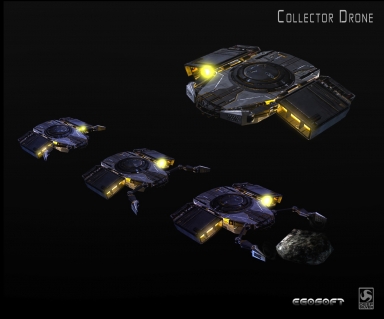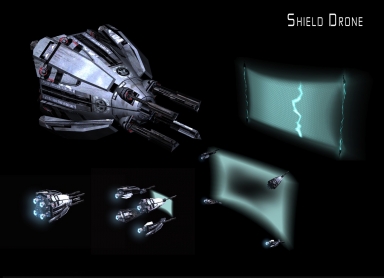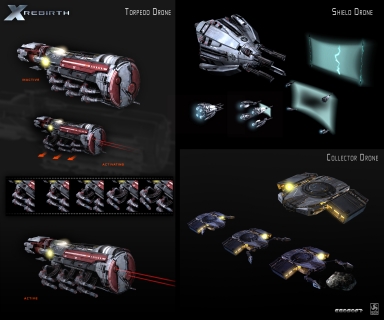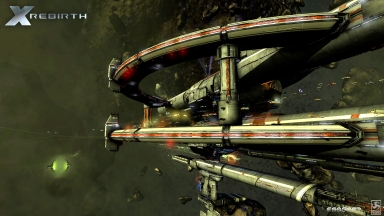 28.06.2012
This Screen taken from an test video is one of my favorites. It shows two identical capital ships after a long and hard fight. Well the right one is done. It is just one second before it is going to fade away in an epic explosion. You can see there a lot of debris all around. And if you look close enough you may discover some fighter wrecks. So those big ships know how to handle fighter attacks.
The left ship survived until now but I don't know if it can go on after the right is gone. No one knows.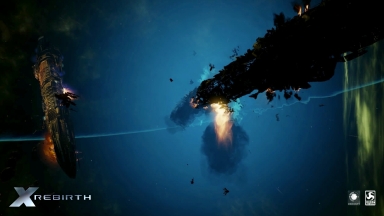 04.07.2012
There are some good news and some bad news for all drug manufactures in the X-Universe. The Spaceweed is onboard in Rebirth as you can see here the Spaceweed Production. The bad news these modules are visible from a long distance with this flash green within the farming domes. So you have to hide them very well from the Patrols.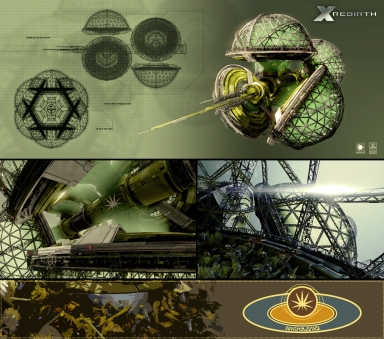 13.07.2012
But now for the Screenshot. This week we have a screenshot that is a bit different than the others before. The screen was taken with minimum Details. No Shadows etc. the only effect left was the illumination model. It shows some parts from an important agricultural complex which is not located in the Albion cluster.