--------X Plugin Manager and Tools for Mac v. 1.21----------
by icEPiraka.
Download Here
Requirements:
Intel Mac, OSX 10.5 and above, with X3TC or X3AP installed.
This is a port of Cycrow's X Plugin Manager Lite and SPK tools for the Mac. It uses Wineskin technology that effectively wraps the windows Plugin Manager inside an interface, allowing the Mac OS to use it.
--Installation and Running:
Drag the app's folder to your hard desktop/hard drive.
Because of (perhaps unfortunate) side-effects of Cycrow's recent update of the Plugin Manager, the app now needs the PC TC/AP .exe in order to work. To remedy this, you will need to place a dummy .exe (either x3tc.exe or x3ap.exe, both have been provided for you in the Plugin Manager folder) into your game's data folder.
The directory of the data folder may vary depending upon your distribution of TC/AP. I believe the three primary distributors are macgamestore.com, Deliver2Mac.com, and the Apple App Store. I have listed likely directories for the game's data folder for each distribution.
Here is an example of a TC directory from macgamestore.com:
On the first run, you will need to find and open the dummy .exe so that the manager will add the data folder as a new directory. Remember that this app still thinks that it is running inside windows, so when you choose the location of you data folder, the directories will be organized as such. No problem: just note that to get to the Macintosh HD when browsing your directory, the HD is the Z drive (Z: ) inside My Computer. You will need to use the drowdown menu to navigate at first. Below is a picture for reference: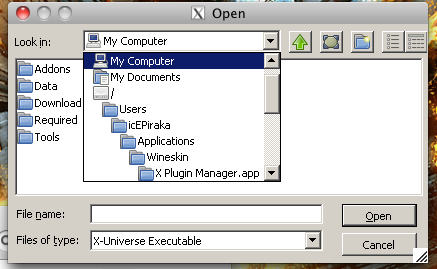 Do not try to launch TC/AP from inside the app: it will not work, as you will essentially be trying to execute a blank text file.
Otherwise, all functionality should be identical to that of Cycrow's original. No issues should exist at this time.
--Notes on Using Other Utilities:
This app also comes with six other utilities: X Plugin Manager Advanced, Cycrow's package creator, SPK explorer, XSP converter, Mod Merger, and a command line tool. Their true location is directly inside the package contents of the X Plugin Manager app, so to access them, right click on the Plugin Manager app and select "Show Package Contents".
If you wand advanced control over mod installation (such as organization of false patches), consider using the Advanced Plugin Manager. Usage of the package creator, spk explorer, mod merger, and xsp converter should parallel the operation of the windows version, although I have not tested them thoroughly.
The command line app allows you to use Cycrow's command line utilities for spk files. This can be slightly tricky and annoying, since it takes a bit of searching to find these command line tools. Here's an example of how to extract the contents of an spk file:
1. Assuming the Package contents of the Plugin Manager app are revealed, locate and open the alias to the drive_c folder and navigate to Program Files/Egosoft/X Plugin Manager/Tools/. Place the .spk file here.
Note that you may wish to create an alias to the tools folder for easy access.
2. Start up the Command line app and type the following (this command changes directory to the Tools folder) and hit enter:
In short, the SPKTools retain the same functionality as in windows, but I recommend placing all the files you will manipulate and doing all your work inside the Tools folder, just to be safe.
--Installing the TC/AP Bonus Packs and Mods in .exe Format:
Once you've downloaded the installer .exe, right click it, select "Open With" > "Other…", and select the X Plugin Manager from your computer. You will have to give the installer an install destination. For installing the AP Bonus Pack, give it the directory to the Addons folder. For the TC Bonus Pack, just give it the Data folder. Then proceed with install (see above on info on data folder directories). Below is a picture on where to find your HD: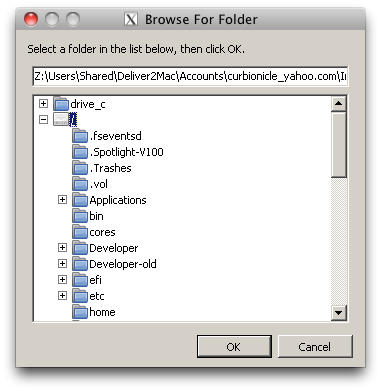 Assuming all that works and completes successfully, you now have a TC/AP install with the Bonus Pack. The same should also work for installing mods with .exe installers (such as the famed Xtended mod), but make sure to consult the mod's developer on which folder to install to (Data or Addons).
--Uninstallation:
Move the X Plugin Manager folder and the dummy .exe in the data folder to the trash. The preference files for the app should be located inside Documents/Egosoft/, so for a full install, drag the following .dat files to the trash: pluginmanager.dat, creator.dat, spkexplorer.dat, etc. Your TC/AP install should not be adversely affected, but you may not be able to uninstall spks you installed with the Plugin Manager without the manager.
---Credits---
Original X Plugin Manager v. 1.41 by Cycrow
Wineskin technology by doh123, wineskin.doh123.com
This app was made with Wineskin Winery 1.5
Wineskin 2.5.5
WS9Wine 1.5.2 Engine
---Version History---
v. 1.21 (5/4/2012)
Added Advanced Plugin Manager app.
v. 1.2 (4/23/2012)
Updated Wrapper and Wine versions. All glitches with regards to .NET and windows should be eliminated.
Mod Merger app now available.
v.1.1 (1/10/2012):
Updated to Cycrow's v. 1.40 of the Plugin Manager: App is now AP Compatible
XSP Converter now available
v.1.01 (10/29/2011):
Fixed .NET glitch where drop-down menus are not visible.
Reduced the file size of the app to a small degree.
Aliases to the Tools folder and other utilities are provided for easy access.
v1.0 (10/8/2011):
Initial Release.
I encourage any Mac user reading this to try out the Plugin Manager and to give feedback, problems, etc.