What is it?
A stand-alone client for Egosoft's Devchat: Developed by Samuel Creshal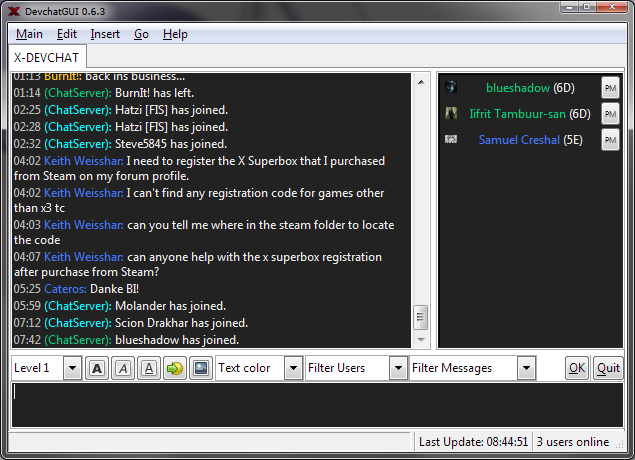 Among other advantages (e.g. not needing to have a browser window open all time) it offers tabbed PMs (like Pidgin, Miranda or similar chat clients), reliable audio notifications, better responsiveness when the server is (again) near breakdown, and up to 10 preset texts instead of 3 with the browser client.
And, it is free/libre open source software, so it's good for your karma.
And you can make sure that I'm not spying on your passwords by checking the
source code
. Just make sure you don't have better things to do that week.
Now available with an 'ingame' interface.
Ingame Menu Interface:
Download Links:
1.0.0 Windows installer
(All dependencies included)
Source tarball
(for Linux/Unix users and masochists who want to try compiling it under Windows - make sure to read the file INSTALL)
Pkgbuild for Archlinux-based distributions
0.5.6 ebuild for Gentoo
(made by Dorsai)
Want / Need to send messages longer than 1 text entry dialog box?
Long message sending now included in download package.
Just add + to the end of a message to be able to add to it.
FAQ
FAQ
Deutscher Thread
|
Topic italiano
|
English Thread in Off Topic
===============================================
To Use:
Download and run the EXE installer.
To enable it for ingame use, set your TC installation folder in the preferences dialog. see "Setting Your TC folder:" below.
The client must be started before chat will become functional in game.
The client will be available from your ships command console under 'custom'. It is also Hotkey settable.
- Adding text together to send a longer message.
- Add + (plus sign) to the end of your text in the text input dialog box, then enter.This will then open the text input again so you can add to your previous message. You can do this as many times as you like. Simply dont add the + to send your message.
- Options menu available from the Message screen.
- Stealth mode activated from the 'Options'.
- Selected options displayed in message screen.
- Available options;
- Max number of messages to be displayed.

- choices 50/100/150.

- Newest messages upto this setting will be displayed.
- Update message time.

- choices fast/medium/slow.

- determines how often the menu is updated.
- Play sound on Poke or PM.

- choices Yes/No.

- Plays 'Incoming transmittion' speech if 'Yes' selected.
- Auto enabled in 'Stealth Mode', reset to prev setting on exiting 'Stealth Mode'.
- Run in Stealth Mode.

- choices Yes/No.

- Upon selection the message screen is closed but the updater script continues to run.
- Play sound on Poke or PM auto activated.
- Updater script slowed down and various parts deactivated to reduce resources used.
- (added waits and a 10 second update cycle used)
- Remove DevChat hotkey.

- choices Yes/No

- On selecting 'Yes' and then 'Save and Exit' the Hotkey entry is removed.
- Turn Debugging On.

- choices Yes/No

- Runs Debug code thoughout the scripts and generates a log file 'log07640' of all outgoing messages.
- Displays subtitle messages each time the messages are updated or the update script shuts down.
- Restore Defaults.

- Imediatly resets options to their default setting and displays them in the options menu.
- Save and Exit.

- Saves the current settings and exits the 'Options Menu' and excutes any actions required due to options selections.
Setting Your TC folder:
Set your TC folder by going to Edit / Preferences / Misc tab / Terran Conflict Folder:
As shown here.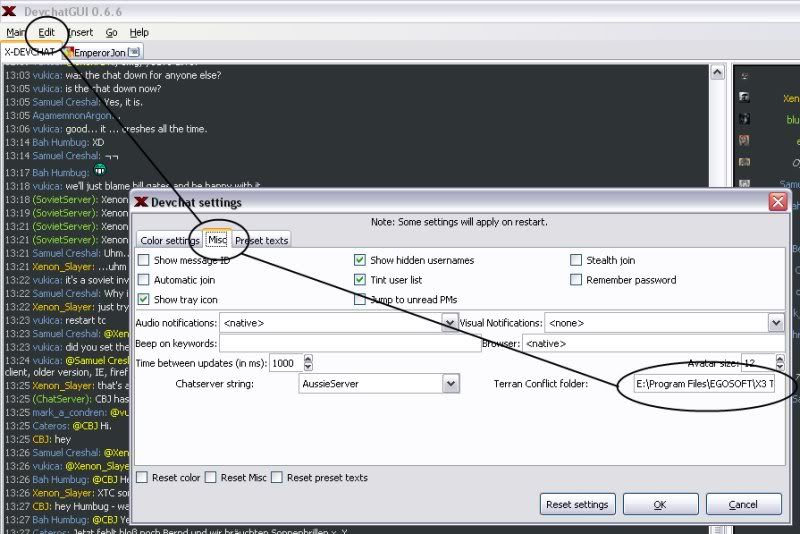 Version Info:
1.0.0 [16-02-11]
Samuel Creshal wrote:1.0.0 is out, just some minor changes. I declare it to be stable now (don't you dare proving me wrong! ).
0.7.1
Updates include
TC folder select on install.
Long message sending.
0.6.6
Resources Used:
COMMAND SLOTS : 1
COMMAND_TYPE_CUSTOM_747 -> INGAME_DEVCHAT_CLIENT
text file page id's:
= 7640
= 7641
= 7642
= 7643
log file id's:
log07642
Posted with the client authors knowledge and consent. (cos he said "i'm not doing it, you are")