Deutsch Version
Colored Sector Names uses a Script and MD to change the color of every sector's name to coincide with its owner.
Universe Map - Sector names are colored according to Race: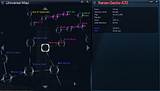 Sector Map - Gate names show the colors: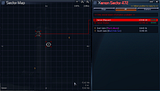 Installing
:
Ensure MD Control is installed and Thereshallbewings is activated.
Reinit Script cache, wait a few seconds until a subtitle stating this is installing appears.
Enjoy.
Version: 2.1b
- English
(zip)
(7z)
(spk)
- German
(zip)
(7z)
(spk)
Requires:
MD Control
Requires:
Colored Object Fix
Compatibility:
Compatible with
XTC
Compatible with
STO
Save game compatible.
Not compatible with mods which add new sector names (let me know of any of these and I can add compatibility).
Known problems:
This problem should be fixed in X3TC v3.1
Scripts which use colored object names in messages will display as blank.
Unless you are using scripts which have implemented the
Color Extraction Code
when they use 'send message'/'send question'/'write to players logbook'. Contact those script creators and ask them to add this as a patch to their script or ask them to contact me and give me permission to do so on their behalf, I'll gladly make patches.
Developers:
If you want your mods to be compatible then add these lines to your code anytime you change the sector's owner.
$null = null
START $null->call script 'plugin.dynamic.colored.sector.names' : sector=$sector