MarCon Ind - Ship Onboard Computer System Interface :
Version 2 Now released.
MarCon Industries is releasing its Ship Onboard Computer System Interface.
All MarCon utility software is incorporated into one menu for ease of use.
This Menu is broken up into sections depending on area of application.
Ok, now for some information you need to know.
- THIS WILL mark your game as
***modified***
- The script editor has to be activated - Thereshallbewings
- X3TC v2.5 is required, as it uses some of the new script commands.
*******************************************************
*******************************************************
Available for Download in the following formats.
SPK :
Download Site: Google Code, -> Size 320 KB, Version 2.
SPK Installation and Removal :
Use Cycrows
Plugin Manager
,
Full
or
Lite
.
Or
ZIP :

Download Site: Google Code, -> Size 474 KB, Version 2.
Zip Installation and Removal :
Install by extracting the Zip file to your X3TC main folder or extract them to a place of your choice and manually copy them to the correct folders in your X3TC folder.
Remove Manually, no scripts need stopping. The scripts only run when you run them.
Compatability :
MarCon Ind - Ship Onboard Computer System Interface will now take advantage of Cycrow's
Hotkey Manager
and
Community Configuration Menu
if you have them installed.
Resources Used:
COMMAND SLOTS : 1
COMMAND_TYPE_CUSTOM_37 -> MARCON_MAIN_MENU
t id :
= 737
text file page id:
= 9737
Script Information :
The
MarCon Main Menu
can be found in the
Custom
commands area of your ships Command Screen. A Hotkey
option
(yes another one) is available IF you wish to use it. It can be set from the Esc -> Control -> Interface screen.
As with all standard menues, look for the Blue
i
as this indicates that more information is available for this item. On the main menu they are located next to the
Heading
, select this line and press Return/Enter and you will get the Info Screen for that area. With Results Screens it is located down the far right hand side next to the
Jumps :
colum.
Below are some previews of the Menu. New Updated Menu Style Previews .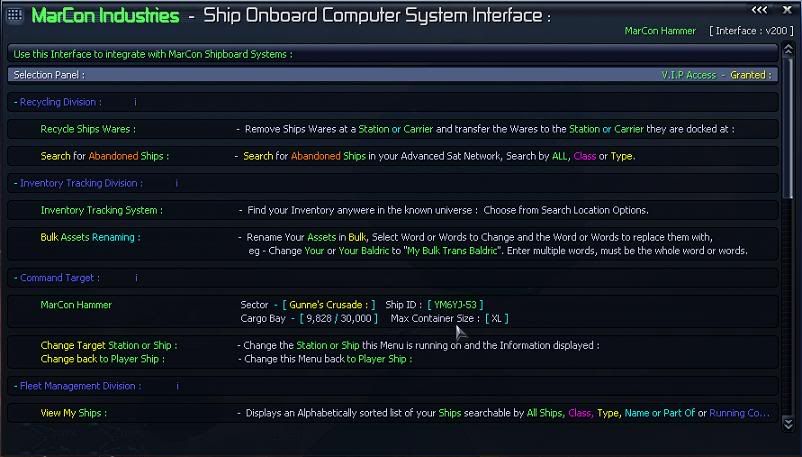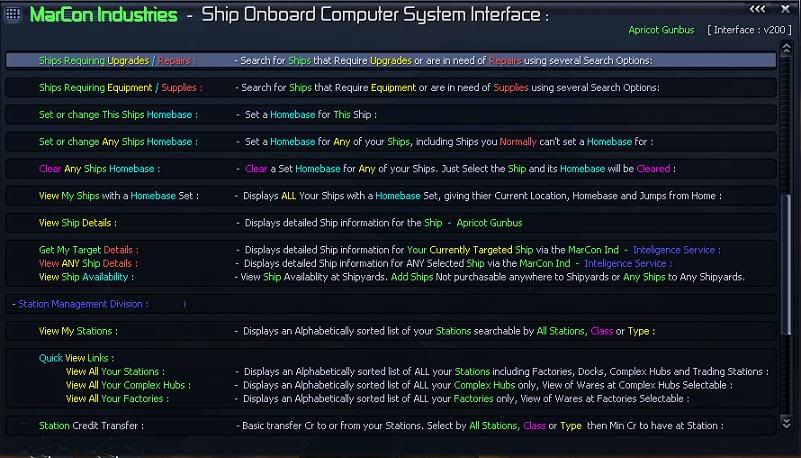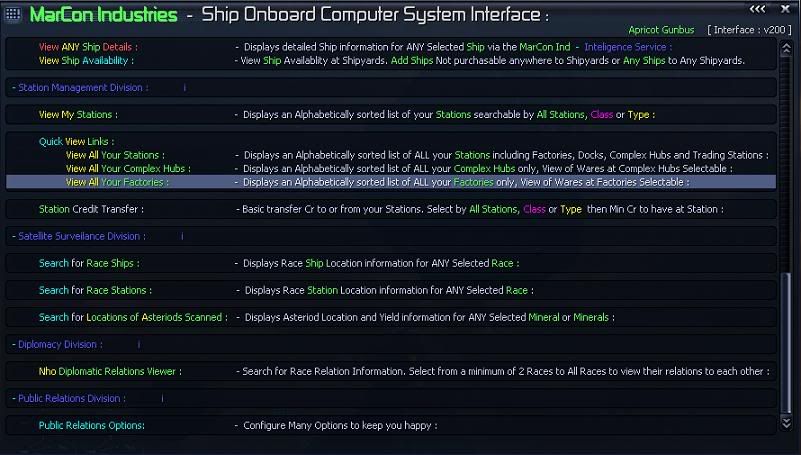 Permissions :
You have my permission to use this Script package or part thereof in your your own work if you so wish. Please give credit if you do.
As listed below i have used some of other peoples work, Credit given in the Script files also. Please gain Thier permission before using them if they have not already given it.
You can find an
Unedited Permissions Statement Here :
Credits :
LA - For giving me some pointers and advice early on, Saved me MUCH hair. Thank you.
a2069 - For giving permission to use some of his lib files. Thanks.
WindsOfBoreas - For giving permission to use some of his lib files. Thanks.
Cycrow - For posting his lib files for us to use. Thanks.
New Version Now Released - Version 2
Many thanks to the following people for their help with V2.
Draffutt, Logain Abler, Nho and Valkyrie004. For their testing, suggestions and help in the process of making this version. Any errors or problems that occur are entirly my fault any not due to their efforts. Thank you to these people and everyone else that has made suggestions, given feedback or pointed out errors.
The new version includes:
Hotkey uninstall code that was left out of prev versions by mistake.
Basic Station credit management, this gives you the abilty to check your stations by Class for stations that don't have a minimum credit balance, remove stations from list you don't want to change, and either bring all listed stations up to this amount or transfer an entered amount to all listed stations.
Lots of minor menu touchups.
And a whole swag of other new stuff!
To View the Latest Updates to this Version :
They Should be on this page ,
View Latest Updates :
Version Info :
v 2 - > 04-Mar-2010
Refer to above link for latest updates, inclusions and Bug Fixes.
Just to much to list here again.
v 102 - > 02-01-10 - Host Site Change. Old Site went Offline.
-> Minor Change to Stations Search Results screen.
-> Set Any Ship Homebase incorrect targeting fixed.
v 101 - > 30-12-09 - Initial Release.
-> Known issue : - Set Any Ship Homebase - will target Stations if it is the Player Tracking Aim. - Fixed - in next release.
MarCon