Headquarters Management and Upgrade Framework
Overview:
Manages Station Credits
Manages autotraders
Manages Station Traders
Produces Reports
pink ftw
Download:
[.rar]
~ SPK included
Trader Description and details: See V1 update notes
Alternative download link from xdownloads:
Installation:
1)Download the .rar and either
- Open the .spk file to auto install the script
-requires
Cycrows Plugin Manager
- Extract the t folder to the respective *x3TC directory*/t folder, and scripts to the *x3TC directory*/Scripts folder
Description:
The ingame headquarters description brings 4 elements to your attention:
1)Credit Management
2)Locations
3)Ware Control
4)Profitability analysis
Recommended/compatible scripts
The HQ management will interact with the following scripts:
Commercial Agent (CAG)
by Lucike
Economy and Supply Trader (EST)
by Lucike
1)
Credit management:
Once activated, this script will maintain an amount, set in the configuration menu, to all the stations you own. Profits will be Transfered back to the HQ. These are logged, and then sent back to the player ~ if using the built in money transfer
2)
Locations:
The script can produces reports on the homebase locations of all of your mk3 autotraders (and ESTs) and your stations.
3)
Ware control:
Again, the script can produce a report, detailing all the products you produce, and factories that produce them. This can come in the form of a logbook entry, or as a menu.
The menu will produce details on factories; for a given product.
4)
Profitability analysis:
I tried to have some fun with this, but x3 doesnt like decimals... so its kinda plain. The advanced money transfer stores the last 20 pre-transfer amounts in a list, which is accessable. These values can be written to a report, or two values, selected from a menu, can be compared.
Some other features:
Autotrader assignment:
The script will assign autotraders using suitable ships the HQ owns (which arn't doing anything else, dont worry, your CLS delivering goods is safe)
An upper limit is set using the configuration menu, and gradually, the script will assign traders up to this limit. Setting this limit below the amount of traders you already have will cause the script to not hire any more. This script can automatically assign ESTs (providing you have the script installed). This option is also available on the configuration menu.
Station trader assignment:
Like the autotrader assignement. This module (yes im comming to that) automatically assigns suitable ships the hq owns to stations that dont own any. If you have CAG installed... the script will automatically assign these. otherwise, you will have to set them up yourself to do whatever.
Menu System
Main Menu
Begin Hq Automation:
Start the automation system.
Change number of Autotraders:
Change the number of automatically assigned autotraders (default [disabled] )
Toggle use of ESTs:
Enables or disables the use of ESTs as default autotraders (default [disabled])
Change Station Fund Amount:
Prompts you to enter the amount to be maintainted at your stations (default 200,000)
Module Options:
Opens the Module Options Menu
Ware Report:
Opens either the the ware information menu, or sends a report. Type of report is set in the Module Options -> Ware Management menu
Locations Report:
Sends a locations report to you.
Module Options Menu
Create Report on Installed Modules:
A list of the installed modules and a breif description will be sent to you.
Installed Modules:
This list will change based on what modules you have installed. By default. The three modules shown above are installed (along with 2 preinstalled modules)
Credit Transfer Management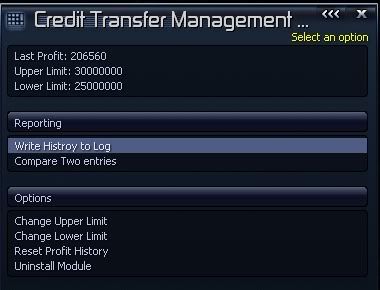 Write History to Log:
Writes the last 20 reports to your logbook
Write History to Log:
Compare two Entries from the last 20. This will bring up two menus. Select an entry in the first menu and the second and you will get a comparison of the two. Selecting one in the first menu and not the second, will show you the entry you selected.
Change Upper Limit:
Change the upper limit for HQ funds.
Change Lower Limit:
Change the lower limit for HQ funds. Setting this to 0 will disable it. If your HQs funds drop below this limit, then it will take money from the player account (if available) to make it up.
Reset Profit History:
Delete existing entries.
Uninstall:
Self explanatory. Note: this will only uninstall until your next load. To completely uninstall this module, open the script editor, find setup.plugin.hq and delete, or comment out line 58
Station Trader Management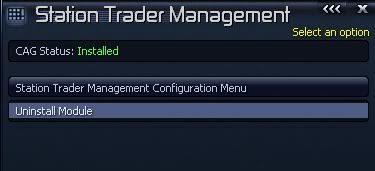 Uninstall:
Self explanatory. Note: this will only uninstall until your next load. To completely uninstall this module, open the script editor, find setup.plugin.hq and delete, or comment out line 56
Ware Management
Change Report Type:
Change the type of report displayed by the 'Ware Report' option on the main menu
Modules
This script is designed to have new modules linked to it. This is very easy to do. Any script writers who wish to have a go ~ details on how to do this are in the next post.
Inbuilt Modules
-> Station Fund Management
-> Autotrader Management
Pre-Installed Modules
-> Station Trader Managemnt
-> Ware Management
-> Credit Transfer Management
External Modules
-> Station Stock Manager
Ok; This script is finished, and bug free as far as i have tested.
I havnt written a readme yet, so if you have any questions, post them here, and i will answer them (or at least try).
Please report any bugs by posting them here. Also please (please please please) give me feedback ~ i want to know what you think; good or bad
Technical Details:
Command Slots used:
<t id="1144">COMMAND_TYPE_STATION_44</t>: HQ Operations: Automate
Custom Command: 8200
Text file:
8200 - L044
6000 - L044 - page 8200
Credits:
S9ilent for his smashing (livesaver) hub/station check library
Version History:
V1.1
- New module interfacing
- Modules require purchase now (already installed modules do not need to be puchased again)
- Module menu system now on the main menu page, not a seperate one
- Some bug fixes
- Community plugin manager menu system
v1.0 ~ Official beta
[.rar]
- New Station Stocking
- Some modifications to the menu
- one or two bug fixes
v0.7 ~ initial Release
[0.7]
Edit [6th Dec 2015]: Added alternative download link from xdownloads. X2-Illuminatus