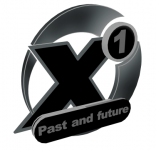 X1PF (For Terran Conflict) Built on Combat mod 3 by ulfius
Information
Welcome to the X1: Past and Future mod, the mod is associated with the X1: The Pirates mod which was release recently and is still in production to release the full total conversion. I have recently decided to move the mod over to X3: Terran Conflict as It is the next up and coming game (after a few patches
) and the game that needs the most work. I however will be still trying to convert the mod over back to X3: The Reunion.
You may have seen this mod on the TXU or Moddb but this is the first I mentioned it on EGOSOFT. The mod has not been released yet, but i hope to be releasing an alpha version in the near future. The only release is the Taster mod for x3 the reunion.
Mod info
Improved graphics
X2 Ships (First version will only have argon ships)
X1 Ships
Custom 'future' type ships
Built on Combat mod 3
RRF by LV included
XBTF style universe
Custom Starts
And there's more, but I won't tell you
Downloads
Screenshots





see
here
for more.
Videos
(oldest to newest)
New Impact Effects (Dec 7th, 2008)

Teaser Trailer (Dec 7th, 2008)

Explore (Dec 8th, 2008)

The Universe (Dec 30th, 2008)

Titan (Jan 29th, 2009)

X1PF TC Trailer 1 (Feb 27th, 2009)

FM6 - Argon Centaur Mk4 trailer (Mar 5th, 2009)

Thanks to
Ulfius for allowing me to build on his Combat Mod 3
LV for allowing me to include RRF
Moddb for hosting and providing usefull coverage
TXU for their continued support
EGOSOFT for there potentially good game.
Comments, criticism and suggestions always helpful