Languages:
Deutscher Beitrag
Package comprehensive:
integrated: MK3-Profitansicht (Scriptdesignation till v1.4) + MK3 Improvement Reloaded v1.8.9.8 with Cargomanager by gnasirator + Trade Command Software MK3 - Technical Datasheet by SymTec ltd.
Info / Idea for further development:
This script is an further development of: UTProfit The basic idea and the original script originate from the author
euclid
Dear
fans,
By looking for a simple extension that allows you to see if and how much profit a MK3 trader made, I found the UTPprofit script from Euclid from English forum. Since Euclid had replied to a user request: "By all means, please feel free to publish your German version." But there was no german version, so I have created this by my own
In the meantime, a lot has changed compared to the original script from euclid due to the continuous further development. In addition to displaying new trader information, the script has developed more and more from a bare view menu to a platform which includes calling third-party scripts and thus also offers the possibility to configure and manage MK3 traders.
Official Script Description:
The MK3-Commandmenu is a cross-software platform that provides standardized extensions to MK3's trading software by © BurnIt & MKess Software Ltd. connects with each other via a common user interface, thereby offering the user greater ease of use. Once a trader has been commissioned with the trading command, it is listed in the MK3 command menu and can be viewed there by the integrated trader overview, which provides most important information about a trader. Further detailed information can be viewed in the report view of a selected trader. In addition, integrated management functions, partly related to a single trader as well as at the global trader level, offer further customization options and thus round off this extensive administration menu. © Financial Tracking Software Ltd. - Grand Exchange, wish you a lot of profit and a good flight!
Functional Overview:
- Call via hotkey or station command
- Display of trader information in a dynamic menu
- Trade Command Reassignment with new parameters
- Other diverse change options such as name change, home base assignment etc.
- Calling configuration third-party tools
About how that looks and which information is displayed, can be shown by the following screenshots!
Screenshots: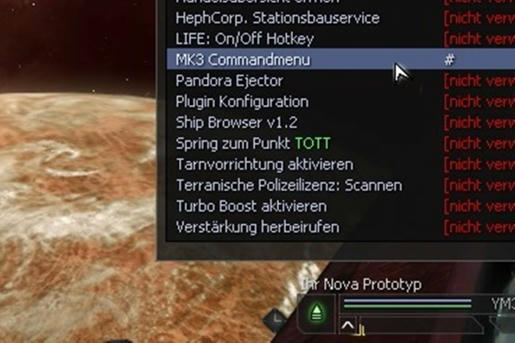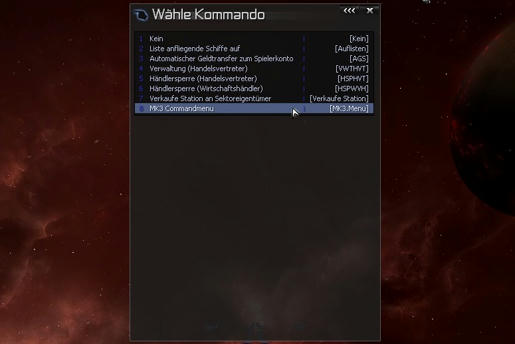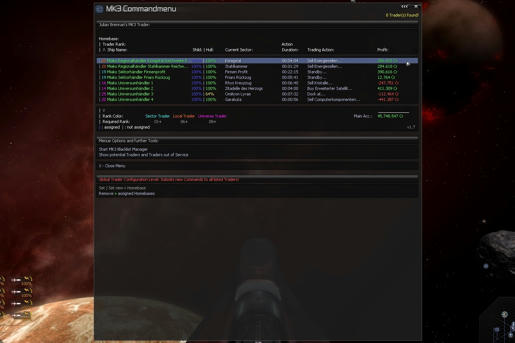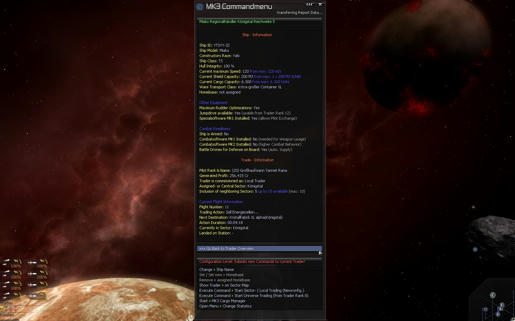 Pictures left to right and from top to bottom show the pictures: Hotkey call, station call, trader overview (main menu), report view (submenu with more detailed information)
Extended Info:
- When called, the script accesses existing information that already exists in the game through the scripts of the MK3 trading software, reads this information and inserts it in a menu. An update of the information is always based on the traders who are active when the script is called up, even when switching between various submenus. If the menu is closed, all associated scripts of the command menu are closed and nothing remains active in the background. Informations does not stored permanently that would not have a negative effect on the size of the savegames in the long run.
- The Trader action usually consists of a "command" in connection with a product to be bought or sold "wantedware", depending on the "command" the information output has already been pre-formatted. However, should there be other types displayed as ["Command"] + "Goods / station etc." come, give me a feedback that I can adjust the information output accordingly.
- Menu is developed in game resolution of XXXX x 1050 pixels. At lower vertical resolutions, as well as in TC, the report view becomes a "Scrollbar". Changing the graphics resolution can help with occurring errors.
- The command is designed for the "MK3 Optimization Reloaded Software". When using the Vanilla MK3 trading software, maybe different and even incorrect information is displayed.
- I am very happy about any feedback to my scripcode but also generally for further development of the script, such as wishes, tips and comments, which helps me to remove errors and to improve the script further to makes it more user friendly.
- Tip: In order of a better differentiation by the employed traders, it is advisable to name them differently!
- Tip: If you don't like my coloring in the menu, you can edit the file "7006-L049.xml" in folder "t" and design the menu in a different colorway yourself. Everyone has a different taste
The only important thing is that the coding "UTF-8" should not be changed that will couse the "T-file" is not readable for the game. A backup copy is recommended to avoid possible trouble.
Usage of Resources:
COMMAND_TYPE_STATION_55
6 Scriptfiles, search key: UTProfit
T-file: 7006 with containing page id = 9900
Compatibility:
- Vanilla TC v3.4 + AP v3.3
- DE + EN Language file available
- Already included in the following mods:
-
EMC4AP by Aldebaran_Prime
-
DAE by Klaus 11
- Other mods should also be compatible if appropriate game resources (see Resources) would not used by other mods.
Download:

v1.70: So show us your poster with the download link!
->>
<<-
The change log for the versions is available in the following post!
Setup:
1. Copy Files from directory "X3 - Albion Prelude" or "X3 - Terran Conflict" to the same directorystructure as in your "Gamedirectory of X3: Terran Confilct" and override existing Files if you will be asked.
2. Start Game "X3 - Albion Prelude" or "X3 - Terran Conflict" and go to the "Controls" and pick up surface "Interface" then scroll down to "Extensions" and assign a Hotkey for "MK3 Commandmenu". Alternative you can open the "MK3 Commandmenu" by picking its entry at "Command Console" of your station.
Uninstallation:
1. Script Editor öffnen (open "Command Console" from a ship (shortcut Shift + C) and choose Entry "Script editor" (shortcut s), ckoose again "Script Editor" at opend window auswählen and scroll down and mark Entry "uninstall.plugin.UTProfit", now press Button "r" and confirm twice with "Enter".
2. If "1." was successful done you will get a deinstallation confirmation.
3. Save your Game and exit to desktop.
4. Remove scripts named with "UTProfit" from right directory "scripts" from (X3:TC or AP) Gamedirectory
5. Remove textfiles including number "7006-L..." from right directory "t" from (X3:TC or AP) Gamedirectory
6. Start game X3:TC oder AP again and load your saved game and keep playing without "MK3-Commandmenu"
Terms of Use / Modifications:
If you like to use this script in one of your mods which is released to the Community it's usual to refering to the origin. Improvements any kind are welcome and will be integrated, that would avoid having publications of many different versions. Nevertheless if there's Anybody who would like to modify that script on his own, a previous PN with information would be very nice, thank you!
External alternatives and Infos:
Script:
Handelsübersicht by ScRaT_GER
-> (Captures traded goods and maintains a trader's log)
Script:
MK3 Handelsprotokoll by SymTec ltd.
-> (Creates an external log file to see the trader's profitability and his trade actions)
Credits:
Many Thanks goes to...
Egosoft for the X-Series
euclid for his first version of the script and the inspiration which it gaves me for further development!
ticaki, moggy2, Dr Xavia, SymTec ltd., DrBullwinkle, gnasirator, Egosoft and all others who have worked on the trading software MK3 or their "Optimization Reloaded"!
Klaus11 for the ongoing support, which made it possible for me to release version 1.2 without a previously known bug, at the beginning!
those gentlemen who have taken the trouble to write an answer, it does not matter whether constructive criticism, suggestions for improvement, error messages, etc., about any answer from feedback, a scripter or modder is glad!
regards
Nightmare