Ha, you would think so wouldn't ya? your forgeting my bad luck Poseidon.
07. Build, Fight, Trade, Think
Including a J, a few Q's, P's & PX's and a large assortment of Fighters.
The Albatross is destroyed before my eyes before it can even react, that J just cost me 3 Million and I can't do anything about it. I sat there watching the Single NMMC Shrike and 2 bombers heading to stop the Xenon lay waste to my "Home Sector", somehow I don't think the Teladi are going to be making much profit now & I'm certainly not going to be making much either.
I watched the show for another few minutes, still in shock at my loss of millions of credits and hours of hard work, the Shrike did take out a few smaller ships and managed to take down the shields of a capital ship, but it was blew to pieces shortly after, with no defence of the sector left the Xenon proceeded to start destroying stations, first up....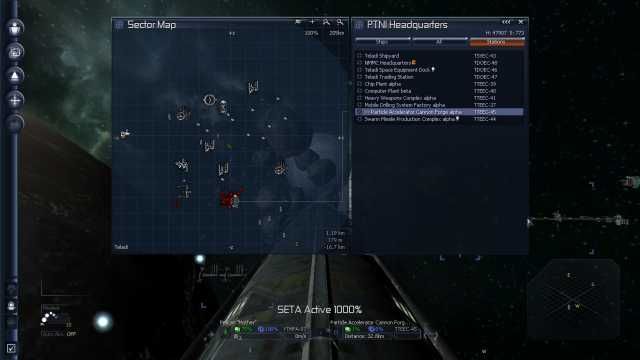 Pac Forge, and it was full of Pacs which I could have snapped up, next up looks like they are targeting the Teladi Shipyard, This is of great concern to me as this is where I have been selling my ships, where I will be buying my stations for a while, the next closest Teladi shipyard is in Inamus Zura and I won't be able to use that for this sector thanks to X-347 as neighbours, so I will be at a loss without it, I wonder do the Teladi build new shipyards if this is destroyed?
Luckily the Xenon seem to have got bored and are instead coming toward me, they must have scanned the ship and realised I'm not Teladi and I'm in fact Terran, they smell blood and they coming for it. I decide to let them get a little closer before I jump to the west gate, this gives me the chance to collect all the debris, not much of it is valuable, just a few missiles, E-cells etc, but it's not going to help cover the 3 million I just lost, that J is marked, I will have great pleasure in taking him out once I get the chance.
I leave the Teladi to it, the military don't seem to be too interested, so NMMC have sent 3 shrikes
And all 3 have been utterly destroyed, I glanced at slugs book and remember how his shrike lasted so long, if what I have seen so far is to go anything by, the shrike is not as good as I thought, either that or the captains off them all have been careless.
I decide I will need to make my money up again, the area if it still exists is still short of Nostrop, I am still keen on building that complex, so I continue doing scan asteroids, Taxiing people and returning ships, plus a few shrewd buys such as a
Pelican for just over 8k - now that's the sort of bargain I need constantly. I have even been able to increase my Pirate rep from -4 till 0 by doing 1 lucrative mission worth over 1 million credits, not bad for a day's work. But the pain of my life so far in Commonwealth space have returned,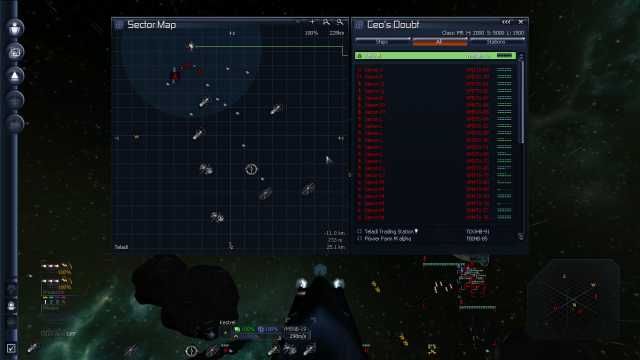 That same J, K, Q and fighters have turned up again, are they following me? Have they caught wind of a Terran and are trying to take me out?
I avoid them again, the kestrel is quite quick so it's easy enough to avoid them, but them turning up again has me a little concerned, I need to get myself some kind of capital ship soon, or come up with another plan of action, particularly when there seems to be very little Military around these days, The Xenon are having a ball of a time destroying everything it is path, and there has been very little in the way of resistance. I also need to hire some qualified fighters to the cause, and for that I will need some extra ships but more importantly, credits.
I eventually have enough for my First Complex (again), I buy the stations and have it all connected in a jiffy, due to recent events, "Blue Wing" were escort for the Albatross, although if that Xenon fleet comes back I doubt 3 Falcons and a Mamba are going to cause much trouble, perhaps the Xenon can do me out of 6 million this time?
But this time all went well, I thought I would use that soft squishy bit of muscle between my ears for this, I ordered the Albatross Captain to place my stations away from the main trade route, About 10km above the trade lane, this I hope will mean if the Xenon/Pirates decided they want to attack they will leave my station alone, or at least leave it until the end.
I decided I would sell the Vulture Miner I had kept purposely for this station and just use 2 Mercury's, they are quicker and cheaper than what I sold the Vulture for, so a win win situation for me really and I already had 1 mercury bought second hand and fixed up, it was already sitting with its cargo bay filled with e-cells for its new Home base. These will buy and sell the goods to within a 1 sector radius, it means that I have more control over where the traders are and means I can if needs be use this to help supply Nostrop to another complex. By setting it to 1 sector, it means that Profit Centre Alpha & PTNI should be sorted for Nostrop and will start producing their own products quicker, plus in general there should not be too much trouble from Pirates due to the heavy presence of Military.
Just as the Ecell buyer is leaving my station, guess who shows up again?
Yep my old friend XM1TX-69. This is the 3rd sector since the initial attack they have turned up in while I'm here, they are definitely looking for me, just as I think my Mercury is about to get killed, it is pulling away from them, no attacks at all on it, but that's probably due to the Teladi Phoenix & Shrike
keeping it busy, I have decided that I need to do something about it, I think because the Capital ships are millions and millions over my kind of budget, I have 2 options, capture a capital ship or the one I'm going to try first, buy a bomber and arm it, then nuke the Xenon, I was going to take anything over 200k from the Nostrop Factory back into my account, but I will instead keep the money on station and use it to buy the bomber I need, with a little bit of luck I may even be able to buy a second hand bomber for a very good price, if not that's a 6 mill + lay out.
Assets
4x Falcons
1x Mamba
1x Perseus
1xNova
1xBaracuda
2x Pelican "Mother" & "First Blood"
Some TS Ships
Some Kestrels for Recon/Sats
Credit: 824,358