I played a bit around and tried to find out what the exact sizes and the relations of the X4 ships are.
I think this should be correct: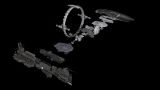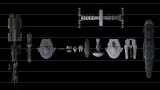 The linies show 1000m parts.
If you import X3 ships you have to scale them down to 0,3% of their size. Then the ships fit into X4s scaling (Paranid carrier is still the same ship).
I also cheched the size of the gate and... well... it would be no problem to bring the goold old "small" Phoenix back into game