Nebulawolf's Yisha Mod, ******** Now Modular *********
Updated, Now made Modular.
Modules:- Hair, Face, Eyes, Spacesuit.
Choose your own combination to get Yisha looking the way you want.
Hair, Face and Eyes can be used with your favourite Yisha - Space suit mod.
Issues:
Normally none - this is just a re-texture.
You may notice that hair colours don't show on Yisha in the little screen in the cockpit or when she first arrives on the skunk. This is because their are no shaders for the hair in these animations, they were either never done or never implemented. You may also notice that the face and eye colours are a little over saturated in the above instances as well - same problem game shaders FUBAR.
**Hopefully one day when the game is finished.**
Use only one MOD from each group at a time - one hair mod, one eye mod, one face mod etc
GE - example place into extensions:
Nebulawolf's_Yisha_Eye_Mod_Dark_Green
Nebulawolf's_Yisha_Hair_Mod_Purple
Nebulawolf's_Yisha_Face_Mod_C_OL_02
Eyes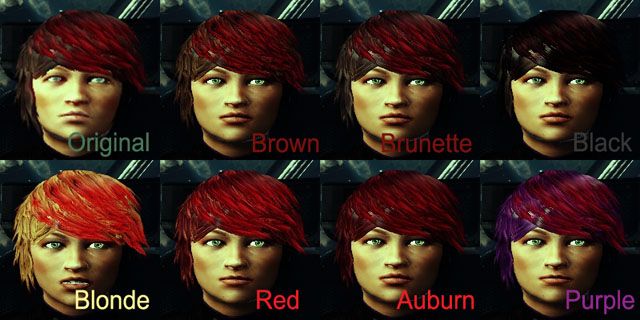 Hair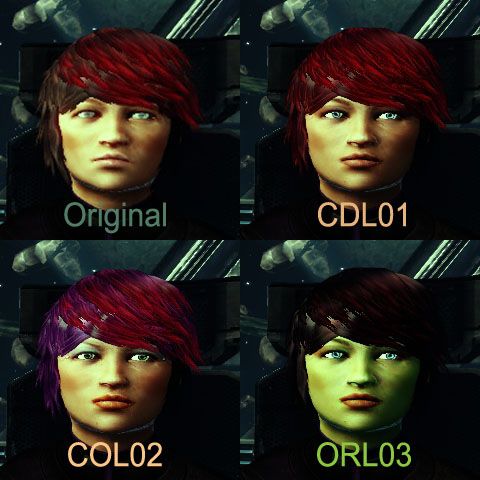 Face variations

Suit with Mesh
*************************************************************
WIP Nebulawolf's Modular Station People Mod (modular to give you choices)
*************************************************************
Previous Non-Modular
New mod, my variation on Yisha spacesuit, application of 'high tec' fabric that closes the hole in Yisha's suit for safety reasons
, but still presents Yisha's best aspects under the right light (on the right viewing angle or under the right lighting conditions)
(see below).
Added a Yisha Head only (face and hair) option for those that want to use Yisha's new looks (face and hair) with original spacesuit or their own modesty or 'enhancing' versions.
Close up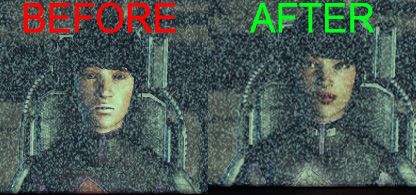 First sight
Spacesuit on dock (light angle gives revealing panel)
(Images now under 100kb)
Up to you if you want the whole Yisha mod or just the new face and hair
enjoy
{Images posted directly to the forums should not be greater than 640x480 or 100kb, oversize image now linked - Terre}
[/img]